Why Should I Choose Camfil APC Dust Collectors?
Camfil firmly believes that the best solutions for its customers are the best solutions for the planet, too. That's why every step of the way – from design to delivery, and across the product life cycle – it considers the impact it has on people and the world. Through a fresh approach to problem-solving, innovative design, precise process control, and a strong customer focus, Camfil aims to conserve more, use less, and find better ways, so we can all breathe easier.
Camfil APC Gold Series X-Flo
The Camfil APC Gold Series X-Flo dust collector with its "built like a safe design" effectively processes dust while maintaining proper pressure and airflow. Built to last, these heavy-duty dust collectors are setting the standard for excellence in maintaining clean factory air.
The system's design has been developed based on over 20 years of field and industry proven performance.
The X-Flo collector can handle many types of toxic and combustible dust and fumes – including fine, fibrous, and heavy metal dust loads.
Industries Served with the Camfil X-Flo
Food processing
Mining
Pharmaceutical
Packaging
Chemical processing
Welding
Metal fabrication
What is the Relationship of Dust Collectors to Metal Cutting?
There have been many changes in laser cutting technology, including new metal thicknesses and more varieties of metal, including mild steel, stainless steel, copper, and brass. Today's fiber laser tables generate molten metal, smoke, and gases, which can be breathing hazards for machine operators. Good ventilation is required to prevent inhalation of toxic airborne particles, particularly the tiniest particles that can settle deep into lung tissues.
Dust collectors are most commonly used to capture particles at the source. Dust, fumes, and smoke are pulled down through the downdraft table and removed through the ductwork where they are filtered through the dust collector. The dust collector's filter cartridges capture all particles until they can be safely removed.
Laser wattage, type of beam, the material being cut, type of assist gas, automated material handling system, and table size all play a role in determining collector size and airflow.
Camfil APC Industrial Dust Collector Options:
Eight standard sizes available size meaning number of filters. (See downloads .pfd)
Seven standard horsepower ranges available. (5 hp – 60 hp).
Vertical filter arrangements.
Messer sizes the dust collector for your application, table size, metal types.
Customized with "Messer Blue Paint" to match the dust collector to the machine.
Optional vacuum systems.
Indoor or outdoor systems.
Advantages of Camfil APC Industrial Dust Collectors
Advanced Filter Cartridges
Gold Cone™ X-Flo (GCX) filter cartridges are the most advanced dust collector filters ever made. They feature proprietary HemiPleat® filter media that stays cleaner and lasts longer than conventional pleated filters. Each GCX filter contains 375 square feet of media, offering the industry's highest air-to-cloth ratio. The innovative design provides a low-pressure drop, which means fewer filters are required for a given application.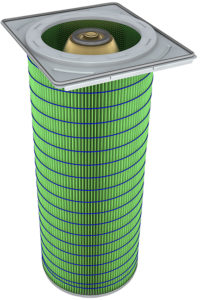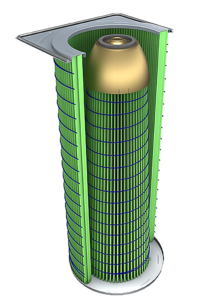 Modular Design
One of the most innovative characteristics of the X-Flo is its modular design, which makes it easy to assemble in a variety of sizes and configurations. Individual modules contain four filters and accommodate airflows up to 6,000 CFM each, providing a near-limitless variety of configurations and airflow capabilities. These modules were designed to accommodate larger cartridges and increase the airflow without increasing the overall footprint.
Industry Leader in Sustainability
Camfil is leading the dust filtration and collection industry with strong green initiatives for sustainability. From design to delivery and across the entirety of the product life cycle, Camfil considers the impact of every action on people and on the world.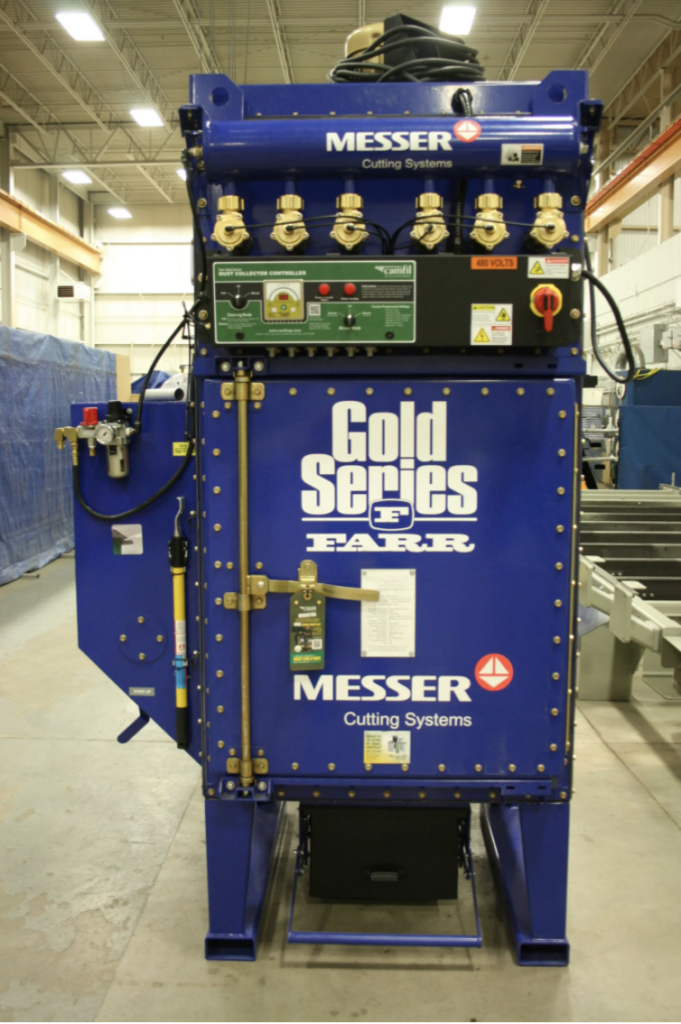 Contact
Messer Cutting Systems, Inc.
---
W141 N9427 Fountain Blvd.
Menomonee Falls, WI 53051
USA

Downloads