Through our Retrofit Program, we provide a variety of options to upgrade and update your cutting machine. Parts may be added or replaced to upgrade your machine's productivity and lifespan.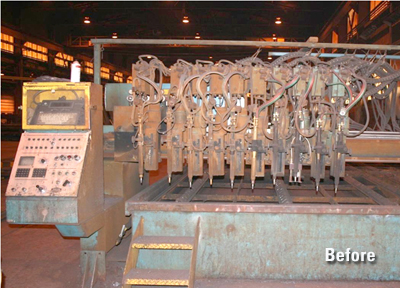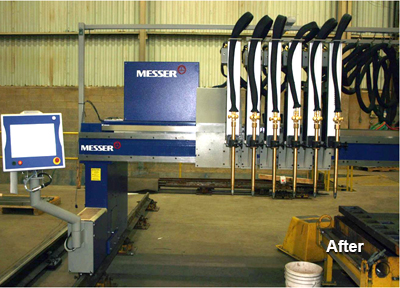 Conversion or retrofits cover the latest technology based on current standards. Replace against modern computer numerical controls or torch suspension with automatic height control with new process-oriented methods of sensing. Typical components for retrofits are the new generation of power sources for the plasma process or high performance flame cutting torches.
Often it is enough, just to increase the number of torches on the machine thus increasing productivity proportionately. Additional marking processing with powder, plasma or ink simplify the use of the cut parts in subsequent production operations.
This maximizes your productivity by bringing you the latest up-to-date machine features. We minimize downtime by taking care of as many parts of the retrofit as possible before Service arrives at your location. Conversion and retrofitting gives a new lease of live to cutting systems.
Contact
Messer Cutting Systems, Inc.
---
W141 N9427 Fountain Blvd.
Menomonee Falls, WI 53051
USA
Downloads
Key Features:
Special retrofit packages and parts rebuilding of complete system
Upgrades
Replacement
Remanufacturing
Retrofit of CNC controls, drives, lifters and height controls, torches, hoses, cables, bearings, ways, cutting tables and much more
Complete tear down and build-up
Comprehensive documentation including schematics
Pre-assembled prior to shipping for faster installation
JOBOX including all tools and hardware required for the installation
High increase in output for little investment
Short down times
Better availability of spare parts and consumables
THIS MIGHT INTEREST YOU…
Messer Cutting Systems is a single-source supplier for all your thermal cutting needs. Messer strives to develop long-term relationships with customers and looks forward to the opportunity to earn your retrofit business. Check out these other sources that might interest you.
Contact the Retrofit Department directly at 262-532-4249.