Exclusive offer for our current customer or qualified equipment buyer.
Join Messer Cutting Systems and other qualified buyers to watch our live virtual demonstration of our cutting machines. You will have the chance to ask questions and gain valuable insight on today's cutting machine technology.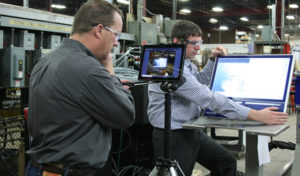 Many of our customers are unable to travel because of the coronavirus pandemic. Despite self-quarantines and canceled and postponed events, it's important for your businesses to keep moving forward. In light of this, we are offering a live virtual demo as a service to our customers who cannot come in to see our cutting machines in person at the factory.
We are inviting you, as a qualified buyer, to schedule a Live Virtual Demo to review our cutting machines in a webinar platform.
Messer's high-performance, cutting machines are the best in the industry and are prized for precision cutting and multi tool capability such as plasma/oxyfuel beveling, fiber laser cutting, drilling, milling, and marking.
We're going to give you an up-close look at our extraordinary cutting machines during the Live Virtual Demo. The Messer team is well-equipped to answer your questions and will help you through the equipment features and it's easy-to-use software.
You'll see all the details, thanks to ultra-sharp video resolution. You'll feel as if you're there in person! Schedule your demonstration today!
One customer said this about our Live Virtual Demos:
"This web camera presentation played a major factor in our equipment purchase. I highly recommend the use of this technology!"
Contact
Messer Cutting Systems, Inc.
---
W141 N9427 Fountain Blvd.
Menomonee Falls, WI 53051
USA