CLICK HERE TO PLACE YOUR ORDER TODAY!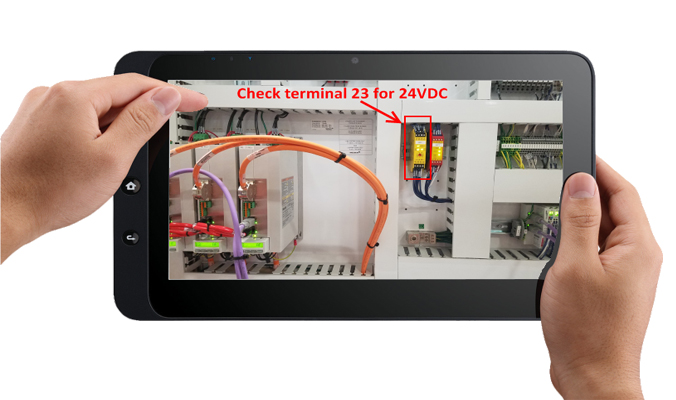 Recovery from unplanned downtime is critical when your equipment exhibits problems. When waiting for a service technician to arrive, even a short delay, may not be acceptable, especially if the issue can be resolved quickly. Today's Covid-19 pandemic has created challenges for service technicians to visit your facilities with shutdowns and no visitor policies. Other factors also come into play, such as travel cost, weather, and service travel time. Your equipment downtime is very important to us. In order for us to provide the best service possible, Messer's service support technicians can quickly visually diagnose problems or failures and make recommendations for servicing your equipment through Messer's Visual Service.
Visual Service from Messer Cutting Systems provides tools that allow the user to interact from their job site with experts from Messer Cuttings Systems via tablet, smartphone, or wearable headset. It is an application-based solution – download, available on all commonly available iOS & Android devices. Each support session is 256-bit AES-encrypted and password-protected, and can be stored on Messer secured servers.
Your Advantages
Minimizes delays in trouble-shooting
Enhancement to existing "Virtual Service" (contract required).
"Fix it right the first time" using:

Root cause analysis.
Easy parts identification and inspection.
Real-time collaboration when using technical documents.
Capture digital record of any field interactions.
Key Features:
Fast and easy technical support when you need it.
Easy to use interface.
Downloadable app from the App store.
A current active Virtual Service contract is needed.
Works on smartphones and tablets (iOS or Android) via WLAN, GSM or LTE connection.
Adaptive image transmission adjusts automatically to prevailing bandwidth.
On-screen annotations for additional guidance.
Screen sharing for collaboration with technical information.
The chat function automatically translates to multiple languages.
"Smart Glasses" / wearable headset for hands-free use.
Contact
Messer Cutting Systems, Inc.
---
W141 N9427 Fountain Blvd.
Menomonee Falls, WI 53051
USA
Downloads
Additional Services
---
---