A painless cut: LBT masters large plate using Messer Cutting Systems' plasma table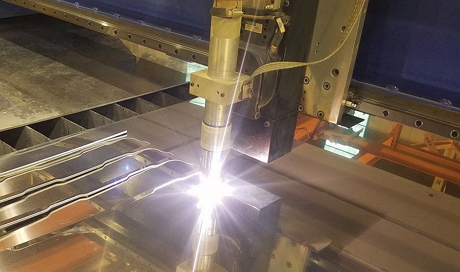 The MetalMaster Xcel helped LBT to minimize downtime and enhance LBT's ability to respond to inventory issues as they arise.
Action and reaction are two sides of the same coin. A manufacturer has to act to obtain new business and then has to react when those new orders come in.
For LBT Inc., the builder of trailers and mobile and stationary tanks, the applications for its finished products are so varied as to present both opportunities and tests of its capabilities, and it relies on backup from savvy equipment vendors to meet such tests.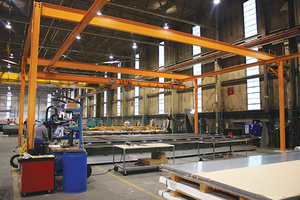 Established in April 1994 as part of the Remcor Group, LBT takes aluminum and carbon steel plate to produce dry bulk, petroleum and asphalt trailers and storage units for North American fleet operators and other customers from a 220,000-square-foot facility in Omaha. LBT also manufactures water tankers and aviation tankers, building 320 to 340 units per year with roughly 100 workers.
Factoring in LBT's impressive output, Operations Director Jason Wileman and his colleagues were determined to upgrade production with new equipment. In particular, "LBT was looking to replace their old, tired plasma cutting table from 1982 and capitalize on new technology and buy a system they could grow with," says Jason Lumetta, Western regional sales manager for Messer Cutting Systems.
Lumetta met Wileman and other LBT employees at the Fabtech 2014 exposition in Atlanta. The MetalMaster Xcel was among the items displayed by Messer, a Menomonee Falls, Wisconsin-based metalworking machinery builder since 1955. The MetalMaster Xcel, featuring traversing speeds of 3000 IPM and acceleration drive, offers increased productivity by using a plasma and fiber laser combination that can cut a part in separate areas without repositioning it.
"From day one of dealing with Jason Lumetta of Messer Cutting Systems, there was a real understanding of our needs and cutting requirements," Wileman says.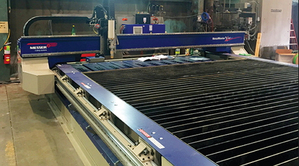 Above: LBT minimized downtime and became more responsive to inventory issues as they arise.
"The MetalMaster Xcel is attractive because it is capable of cutting large plates from a variety of materials and thicknesses, it is very fast and has an incredible 0.002-inch accuracy of motion," says Lumetta.
The slagger
Another benefit that the MetalMaster Xcel has is its self-cleaning table, called The Slagger, he says. The Slagger table is able to automatically move the small parts and slag, from either oxyfuel or plasma cutting, from the table bottom to the end of the table. A pusher-type blade moves unwanted material forward into the optional slag pit bucket, located at the front of the plasma cutting table. "It's truly unlike any other plasma machine in the industry."
Wileman and his staff quickly realized the benefits of their investment. The MetalMaster Xcel significantly bolstered LBT's efficiency, productivity and delivery.
"The industry that LBT supplies is very dynamic," because customers cannot always accurately forecast the types of shapes they will need and when, explains Wileman. "This means urgent requirements at low volumes are very common.
After conducting additional research and considering designs and proposals from two other machinery vendors, LBT concluded that Messer's system was most appropriate. "It became easy to see who we should deal with," says Wileman. "The Messer plasma cutting system best suited our needs due to the sheer size of the sheet and plate that we work with and the speed in which the cutting head can traverse the entire area."
The MetalMaster Xcel helped LBT to minimize downtime and enhance LBT's ability to respond to inventory issues as they arise. "Our on-time delivery on in-house manufactured parts has increased dramatically. In line with this, our quality has also dramatically improved as we transition from handmade parts.
"Due to the specialized nature of our business," he continues, "Messer's cutting system has enabled us to react as needed. Not only do we build standard inventory but, as urgent or special requirements come up, we can react immediately to reduce production inefficiencies. Process improvement is always important and the unitization of this machine is key to continue this path."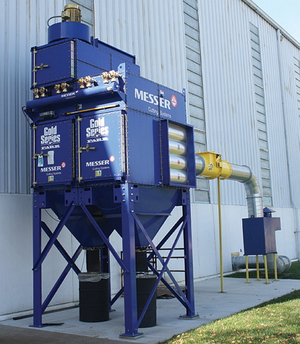 Turnkey service
"On a service side of things, the machine software package includes a Virtual Service contract," says Lumetta, adding that the system works as a turnkey solution.
"Virtual Service allows our technicians working at our factory in Wisconsin to remotely log in to the customer's machine and do any necessary fault finding, and have a part sent, without the need for a technician to visit the customer on site, in many cases," he says.
"Our applications department can even use Virtual Service for operator and software training. Messer employs a large service team across the country so that we can easily service all of our customers and even provide preventative maintenance programs to keep machines in perfect operating condition."
Equipped with "the fastest cutting machine on the market today, especially for material handling [when installed with The Slagger]," Lumetta expects LBT to see savings at the bottom line along with a smoother manufacturing process.
"LBT did their homework," he says. "They are able to cut everything in house, rather than outsourcing, which saves them money and provides faster delivery to their customers. Because of the great quality of cuts and the accuracy of the machine, they are able to cut things that they only did by hand before." 
Written by Colin Linneweber for ModernMetals Magazine, December 2016
Modern Metals' approach to metalworking is unique, taking the reader through a metal's journey from the mill to the OEM/end user. Along the way, MM emphasizes the critical role that metal service centers play, as well as the fabricating and forming stages. This sum-of-all-parts approach to metalworking provides comprehensive industry coverage.
Messer Cutting Systems Menomonee Falls, WI
Phone: 262/255-5520