Challenges Abound with Today's Cutting
Automation, loT 4.0, and flexible solutions are critical components to your business's future success. Today's demanding market requires customers to have the latest technology and tools necessary to complete the job in a timely and cost- effective manner.
Growth opportunities for agile fabricators remain strong, though increasing customer expectations, worker shortages and skill deficits remain. Enhanced support solu­tions are therefore taking on additional importance to end users as well as OEMs. Having better tools allows a better understanding of costs and tighter margins. This transpar­ency empowers users to target the individual challenges impacting their bottom line. "Solutions Beyond Machines" eliminates or reduces those obstacles in cutting operations and in turn improves overall business performance.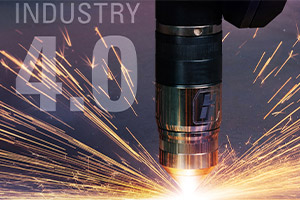 Connected machines can provide a variety of informa­tion regarding efficiency, idle time, idle reasons, and us­age load. This information can be leveraged to spot issues before a breakdown occurs, and guide appropriately timed preventive interventions regarding wear part replacement.
The result is a partnership between the end user and OEM, where rather than dependence on reacting to break­downs and loss of end-user output (and associated reve­nue), a planned preventive support model is implemented.
Advanced remote support tools such as Virtual Service and Visual Service from Messer Cutting Systems are used to realize a true "over the shoulder" support experience for the customer. The benefit to end users is a much quicker return to production when an issue occurs and a higher "first-time fix rate." Rapid resolution using remote tools eliminates the lost time waiting for a technician to arrive onsite and the costs for that onsite visit.
The machines that propelled your success thus far will not be enough to compete effectively in the con­nected industry of tomorrow.
It's more important than ever, to partner with a provider that can provide the end to-end software solutions required to be competitive in the Industry 4.0 world.
Productivity software provides the machine insights needed to reduce process times and increase part produc­tion per hour. Using these tools will provide the confi­dence to bid more competitively and identify opportunities to improve efficiency. Equipped for the Industry 4.0 world, these interfaces allow you to permanently capture not just the nest, but every parameter you've customized to gain an edge on your competition. This greatly reduces reliance on operator knowledge and ensures consistent productivity, not just from one operator to the next, but every time the job is run, even if it's years in between specialized jobs.
These software modules are most effective when bun­dled into a complete solution. The ongoing goal of in­creasing productivity will always be a task, but these tools ensure it's never a burden.
Article: Was contributed by the experts at Messer Cutting Systems.
Metal Center News Cutting Edge 2022.