Laser or Plasma … Why Not Both?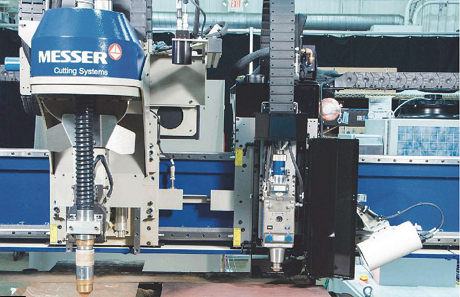 Menomonee Falls, Wis. – Utilizing a combination machine can dramatically increase cutting productivity.
Customers are increasing their demands for precision cutting and faster delivery. The technology of laser cutting has filled in the gap for those customers requiring tighter part tolerances and improved delivery times. It also creates the smallest HAZ (heat affected zone) out of all the thermal cutting process-es since a laser's heat is concentrated in the smallest area of the work piece. Today's fiber laser machines make machine operation and maintenance much simpler. Gone are the days of the delicate task of performing beam alignments within a maze of mirrors on CO2 laser machines.
But what really makes you stand out against your competition when quoting a job? Perhaps it is your customer service and attention to detail that keeps your customer returning time and again. Your customers see the value that you offer with competitive pricing and short lead-times. However, it is certain that all your competitors believe that they are providing the exact same thing. Everyone believes that they provide the best customer service experience and offer the best in technology.
One thing that can separate you from your competition is a Fiber Laser/Plasma Combination machine. Messer Cutting Systems, Inc. offers the power of having two cutting machines inside the space of only one machine footprint on your shop floor. It is no longer a decision if you want to put a production run on the plasma or the laser machine because this machine does both. Experience the flexibility to cut those fine interior features of a part that require a laser cut and then quickly sculpt out the part's profile with an accelerated plasma cut.
A Fiber Laser/Plasma Combination machine offers the power of having two cutting machines inside the space of only one machine footprint on your shop floor.
This machine, coupled with a fully automatic storage and retrieval material handling system, will increase your productivity to as high as 90-plus percent over the rate of traditional methods. There are also compact material handling options such as a single-bed shuttle table or in-line conveyor cutting tables for long plate applications. These options can boost your productivity by 30-40 percent which will enable you to have a clear advantage over the competition.