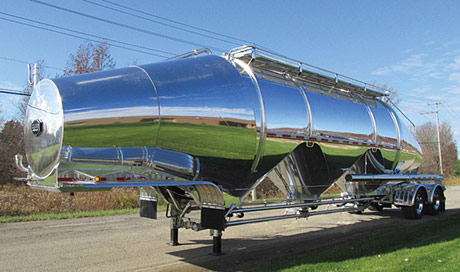 Truck trailer manufacturer satisfies the need for speed and accuracy with CNC controlled plasma technology
May 2016 – Net orders for truck trailers in the United States rose 3.5 percent in March, compared with the same month in 2015, according to consultant ACT Research Co., Columbus, Indiana. "Large fleets continue to drive the market, and low cancellations show that orders are firm," says Frank Maly, ACT's director of commercial vehicle transportation analysis and research. Trailer production increased 4 percent year over year.
MAC Trailer, an Alliance, Ohio, manufacturer of flatbed, transfer and dump trailers, and liquid and pneumatic tank trailers, was founded as a repair facility in 1993 by Mike A. Conny. Its employees' skills were so elevated that they built the company's first new dump trailer a year later. The trailer was designed to meet the rigorous demands of the coal fields in Kentucky and West Virginia.
Today, MAC Trailer has four production plants in Ohio, and additional factories in Oklahoma City and Billings, Montana. Manufacturing space totals 668,000 square feet across 115 acres staffed by 1,100 employees.
In each factory, the company uses a variety of stamping, cutting, bending and forming processes to fabricate and assemble its trailers. When it relocated one of its Ohio operations to a new facility last autumn, it wanted to replace an "outdated plasma machine that was slower, less accurate and produced more dross," says Ronald Marling, industrial engineer for the company. (Also called slag, dross is re-solidified oxidized molten metal that is not fully ejected from the cut edge.)
Marling and his team researched the cutting capabilities of several machinery builders by talking with fabricators that had them. "We talked to the maintenance managers and inquired as to their experience with Messer," he says, and the response was "very positive."
Meanwhile, Messer dealer salesman Gary Stevenson of Modern Machinery Co., Indianapolis, was already working on a separate project there when MAC staff mentioned the need for a new plasma cutting line. "So my salesman got his foot in the door and talked to them about their needs. They were looking for high part accuracy and they wanted better cut quality." says John Rowland, Great Lakes regional sales manager for Messer Cutting Systems Inc., Menomonee Falls, Wisconsin.
MAC Trailer cuts grades 5454 and 5083 aluminum sheet, usually 1⁄4 and 3⁄16-inch-thick. That's 95 percent of its material requirements. The last 5 percent is grade 80 mild carbon steel up to 1⁄2 inch thick.
Messer installed a MetalMaster Plus 8 at MAC Trailer last November. The unit has an 8-foot-wide by 45-foot-long bed and features all available auxiliary equipment, so it's a complete package consisting of the cutting machine, downdraft exhaust table and dust collector, all operated by a PC-based Global CNC Control.
ACCELERATION
Travel speeds for the cutting head ranges up to 1,700 inches per minute. All axes are backlash compensated to provide machine accuracy of +/- 0.002-inch over a 72-inch by 72-inch cutting area.
The feature that is highly prized at MAC Trailer and among other customers is the "Slagger," a wide blade that takes only about five minutes to clear the table of cutouts and dross down the entire length of the table.
First, says Marling, the Messer plasma cutting system creates minimal dross to begin with – "some parts are dross free." Second, the trailer builder was able to reduce a secondary operation to clean off dross. Third, the clean cuts allow for proper fit-up in assembly. "We realized better line flow by minimizing adjustments on the line," he says.
MAC has found that the speed is roughly 30 percent faster than that achieved by the unit that was replaced. There are other efficiencies: machine operators can place two sheets of aluminum on the cutting table at once. While one sheet is being cut on the first half of the table, cut parts can be simultaneously removed from the second half.
Rowland acknowledges that MetalMaster Plus is "more expensive than other machines, but MAC Trailer was willing to pay a premium" to get exactly what was needed.
Messer keeps tweaking the design to make it better. "The Global CNC Control has a very simple and usable operator interface. We can set up all plasma parameters directly from the control. When an operator selects material to cut, the control will set all the gas flows, the amperage and the arc voltage, and then shows the operator pictures of what consumables need to be put in the torch," Rowland says.
CLEAN WORKSPACE
The old method of plasma cutting was to use water tables to contain smoke, according to Rowland, but Messer now uses an exhaust system on the downdraft cutting table which "sucks the smoke down below the table – using damper doors, high air velocity and suction, it does a much better job of keeping air clean in the shop. That's safer for operators."
He believes that close to three-quarters of Messer plasma machines shipped include the downdraft table.
The Slagger "makes cleaning the machine very quick and low effort. It uses an electric motor, gear reducer and then a shaft that sticks out of both sides, and a gear rack that runs along both sides. It can clean a 50-foot long table in five minutes. The old way of cleaning water tables was to "remove all this sludge and have to treat it as hazardous waste."
The higher traverse speed and higher acceleration and deceleration of the machine reduce the cycle time. "Every machine makes movements that are nonproductive because you must go from point A to point B before cutting," Rowland says. But the faster the head moves between points, the faster material is processed. "And how fast you can get it to cutting speed is important to cut quality. If you are too slow, the cuts or holes are not round," he says.
This machine is designed primarily as a dedicated plasma cutting machine but Messser could add an oxyfuel torch on it.
VIRTUAL SERVICE
Messer has a staff of eight applications engineers. They are available by telephone or will travel to customer sites to assist in operator training, debug programs and teach operators how to run the machine.
"We also have a unique thing called virtual service, so when a customer has a machine issue, a Messer engineer can log on to the customer's machine control and perform all operations except cycle start, in order to determine where the problem lies. With this access, "we can perform pretty high-level diagnostics remotely. The control has a 16-line digital oscilloscope so we can look at all the parts of the machine, read the amperages being pulled by the drive motors, check on the plasma head to see if it has the proper gas and air settings. We can force limit switches on and off, checking electrical connections."
Because Messer has 22 full-time field service technicians stationed all over North America, it's very rare that we cannot have a service tech on site in 24 hours. That is how we sell machines – by pledging the service. Companies are willing to pay for that value."
WHAT'S NEXT?
"Automated material handling is the next trend" among metal processing machinery users, says Rowland. "That's what our customers are asking about. The goal is higher production rates." With plasma cutting, "we aren't quite lights out," he continues, but the shuttle tables that are used with laser cutting systems are now being sold for use on plasma machines. Messer "just installed two of those shuttle tables in southern Indiana."
Messer and the customer will closely monitor productivity gains. "I suspect it will be 3-to-1 production gain ratio. Some customers are replacing one oxyfuel unit and three older technology plasma machines with two shuttle table plasma cutting systems, bringing work in house that was outsourced, and shifting some work from their lasers."
Also trending in the metal processing world are automated storage and retrieval systems. Many big companies have employed them for years but more midsize and smaller factories are examining the potential benefits, as well, in order to keep up with the competition. Messer partners with a German company, Remmert, which builds those systems. "It's about keeping the cutting machine running as much as possible," Rowland says.
This article is written by Modern Metals, May 2016, by Corinna Petry