WMS Stepping into the Light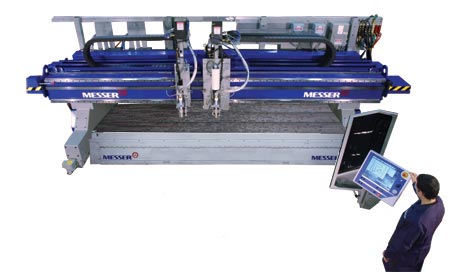 West Memphis Steel began nearly 40 years ago as a typical distributor handling mostly secondary material, but has since evolved into a multi-process service center with first-stage manufacturing capabilities. Its latest investment, a high-tech burning machine, moves the company further into the realm of part production.
Located just across the Mississippi River from Memphis, Tenn., WMS operates two warehouses and processing centers. Just five years ago, the company shipped about 50,000 tons of carbon steel products per year; today its volume is approaching 80,000 tons, and counting, despite the intervening economic downturn. In the past two years, it has expanded its workforce by more than 20 percent, to over 100. From sales to tons to personnel, the company is experiencing healthy organic growth in a business environment that has not always been conducive to it.
"We're growing in both direct shipments without processing and we're growing our processing, as well," says Joe Brackin, chief operating officer. "We've been flying under the radar for a while, but we've grown to the point where we're ready to flex our muscles a bit and say, 'We're here.'"
The company's fall 2012 installation of a dual-head cutting table took its processing capabilities to a new level. The Messer MPC 2000 Multiprocess Center features a 12-foot precision gantry equipped with both a plasma torch and an oxyfuel torch. With a single machine, WMS can employ the plasma torch to cut mild steel up to two inches thick, while the oxyfuel torch is used on material up to 12 inches thick. The system includes a self-cleaning downdraft table that reduces the slag-cleaning time from days to minutes. "The table lends itself to cleaning anything that hits their floor," says Joerg Toberna, marketing manager for Messer, Menomonee Falls, Wis.
West Memphis Steel's decision to add the Messer system to its processing options was a simple response to a chorus of customer demand. "Companies were inquiring if we could do that kind of work. We had enough people from different backgrounds, interested in buying different types of parts, that it made the decision to put in a table easy. It has gone very well for us," explains Brackin.
Many WMS customers–low-volume manufacturers with limited budgets–are concentrating on assembling the finished product. They readily outsource cutting and other tasks to outfits like WMS. Brackin says he is not worried about stepping on customers' toes by venturing too far into the manufacturing process. "We complement what they do. If they have a capacity issue, or if they have a new product and they're not ready to buy a new piece of production machinery yet, we're there for them."
President and owner Byron Besser, who purchased the business in 1988, has led the company's diversification into value-added processing. "We originally were just a commodity mover. In the '90s, we started shearing and sawing. In the 2000s, we added a leveler for sheet and plate coil." Today, in addition to the Messer cutting system and the small leveling line, the company operates several shears, five saws, a cut-to-length line and two press brakes. With the addition of every piece of equipment, WMS has become more valuable to its existing customer base, as well as attracting new accounts, Besser adds.
West Memphis also operates its own truck fleet, with 15 tractor-trailers shipping material within a 250-mile radius. The company does some LTL business to more faraway locations, but its core market is in the Middle South.
Not surprisingly, WMS has benefited from the migration of domestic manufacturing to the southeastern U.S., including a handful of steel mills that are now within a few hundred miles. The company's warehouses have rail into the building, plus easy access to Interstates 40 and 55. "Everything that moves through this part of the country comes right by us," Brackin says. And more through them, as well.
Written by Dan Markham, Senior Editor
Source: Metal Center News, Issue of January 2014