Our Improved Heavy-Duty Construction Cutting Machine
The MPC2000 MC is a highly flexible, multi-process Messer cutting machine that can be equipped with multiple carriages for up to five separate processes including precision plasma, Oxyfuel, drilling up to 2.5", milling, and markers, with the ability to install up to 4 tool stations.
This plasma cutter delivers clean, smooth cut part edges and precise cut holes, all with high accuracy and repeatability. The MPC2000 MC includes linear motion ways, and state-of-the-art AC servo drives provide dependable machine tool performance.
The drilling and milling high-suction chip vacuum system allows for a cleaner table surface and work area. This system prevents chips from flying off the surface table for operator safety and height-sensing accuracy. There is also a collection hopper for recycling steel chips.
Integrating the MPC2000 MC will improve your plate processing in a number of ways. Built for heavy-duty structural steel processing, in applications like truck manufacturing and tank cutting, this machine is the perfect fit for multiple types of industries such as steel service centers, shipbuilding, the rail industry, oil and gas, construction, mining, and big agriculture.
BENEFITS OF USING THE MPC2000 MC CUTTING MACHINE
Integrating the MPC2000 MC will improve your plate processing in a number of ways.
Standard Machine Features

When you purchase an MPC2000 MC, you'll gain access to the following features and capabilities:

Materials processed: Mild Steel, Structural Steel, Stainless Steel, and Aluminum.

Material thickness capacity: 26 ga. to 8″ (203.2mm) dependent on process.

Cutting width: 12′ (3.657m) to 28′ (8.534m).

Cutting length: up to 200′ (60.69m).

Drilling up to 2.5″ (63.5mm) diameter.

Tapping up to 1 1/2″ (38.1mm) diameter.

Milling functionality.

Beveling curves functionality.

Contouring speeds up to 400 ipm and positioning speeds up to 1400 ipm.

Enhanced linear motion ways and state-of-the-art AC servo drives.

Long-life band drives.

Larger end trucks.

High suction chip collection vacuum system.  

Easy-to-use GlobalControlPlus touch screen interface.
Optional Machine Features

With a dynamic construction  your MPC2000 MC may be customized to your needs with the following options, as well:
Plasma up to 800 Amps.

Up to four plasma torches, two markers, and four oxy-fuel torches.

Plasma beveling units Global Rotator Infinity, Delta E, Manual Plasma Stripping Bevel Unit for the X-Axis.

Oxyfuel Bevel Cutters: DAF/L, Single Position Bevel Unit, Three Position Bevel Unit, Oxyfuel Contour Bevel Unit.

Plate markers: Air Scribe, Zinc Powder, Ink-Jet, and Telesis Pinstamp

®. 

Zoned exhaust tables, such as the self-cleaning Slagger

®

Programming and nesting software.

Operators riding platform. 

 

Glare curtains. 
See the components section for additional add-ons.
Software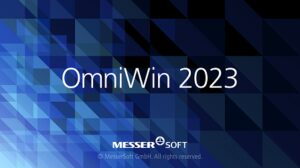 OmniWin is a simple, clear, fast designing and nesting software that can be adapted to the MPC2000 MC for cutting and drilling. It processes cutting tasks for order-based production runs as well as in just-in-time manufacturing, with changing quantities of custom cutting operations. You save time, materials, and it is easy-to-use. OmniWin is the ideal tool for oxyfuel, plasma, drilling, and milling.
High Accuracy and Repeatability

Achieve accurate results across applications by programming your machine for your specific purposes, reducing the risk of costly errors.
Consistent performance and repeatable results are critical for maintaining efficient production, and this machine allows you to consistently complete various functions at the same high standard.
Design and Durability

The heavy-duty, rugged beam design gives this machine a construction tough enough to keep cutting even through three shifts and offers the strength and stability for maximum accuracy and repeatability.
Designed and manufactured in the USA to meet machine tool and ISO 230-2 standards, both UL/cUL.
Usability

The MPC2000 MC is equipped with Global ControlPlus for an easy-to-use operator interface. As with other Messer machines, you will gain access to our Virtual Service and Visual Service remote consultation and diagnostics, as well as our Sentry Service preventative maintenance program to keep your machine in working condition.
You will also benefit from installation flexibility with right, left, or overhead powertrack options.  Also an optional operator riding platform and operator glare curtain for enhanced safety and efficiency.
Machining Capabilities of the Improved MPC2000 MC
We can equip your MPC2000 MC with carriages to perform up a variety of functions.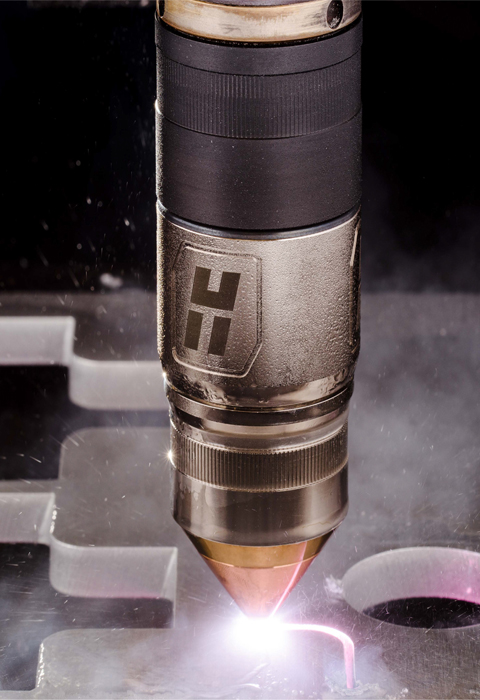 Precision Plasma Cutting
---
For fast, accurate, high-quality cuts, the MPC2000 MC performs well as a plasma cutting table. We offer precision plasma cutting capabilities up to 800 amps on this machine. With precision plasma the lifter equipped on this machine is the PL-1 Plasma Torch Lifter with the SureStop Collision Sensor.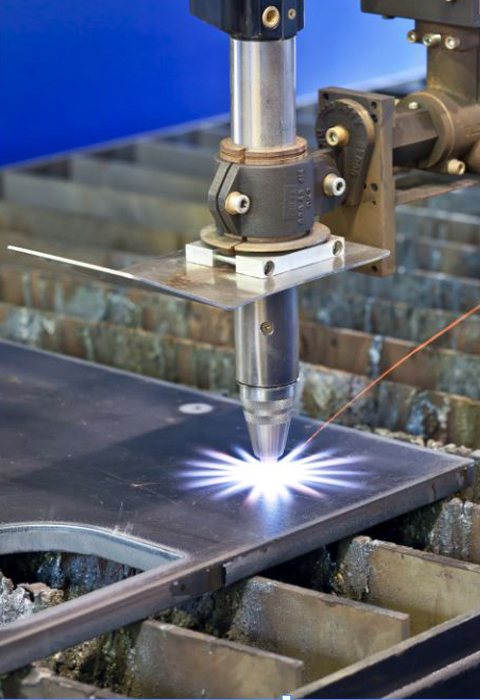 Oxyfuel Cutting
---
Oxyfuel provides consistent piercing and faster cutting results. With options for auto torch spacing, automated gas regulation, automatic height control, MPC2000 MC can achieve repeatable high standards through precision technology. This machine can be equipped with multiple torches ALFA or Turbo Flame™.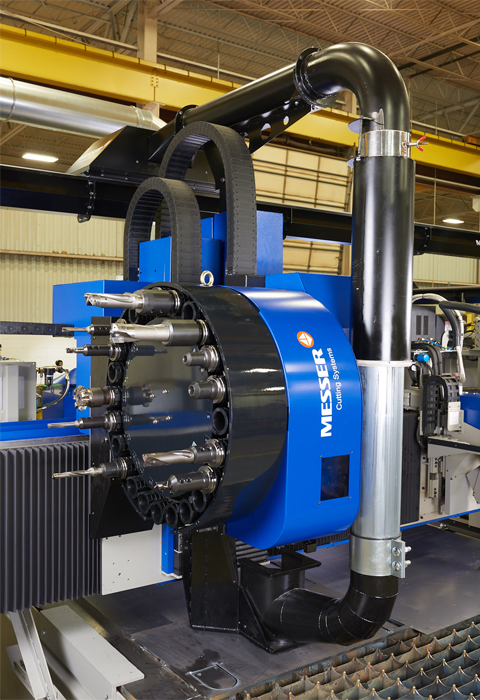 Drilling and Milling
---
The MD250 Drill Unit offers a 24 tool rotary drill tool changers, allowing for automatic tool replacement for faster drilling. Using the enhanced machining process allows the ability to drill up to 2.5 inch diameter on 6" thick mild steel and, tap 1.5" 6 unc for the 2.5' drill or milling critical internal features.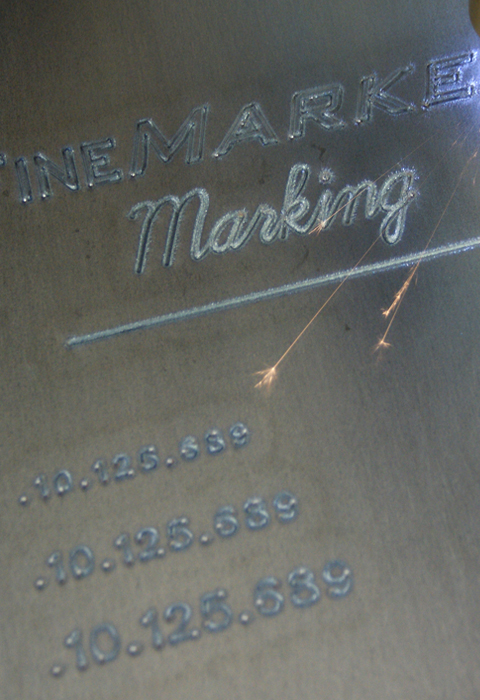 Marking
---
When you need to mark stainless steel, mild steel or aluminum, choosing the right marking tool for the MPC2000 MC can help your company save time by cutting and marking on the same piece part. Marking equipment can easily and precisely create durable marks for long lasting legibility and permanency.
Markers:
Inkjet Marker
Powder
Telesis Pinstamp.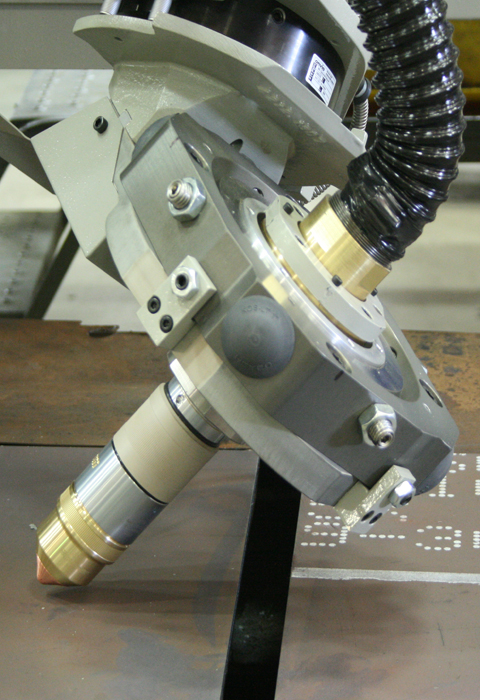 Curve Bevel Cutting
---
When bevel cutting thicker plates, Oxyfuel is best for over 3". This method is economical, accurate, and precise, granting you more control over the process.
If you are working with plates that are up to three inches thick, plasma bevel cutting is the only way to go. With plasma beveler cutters, the Delta E or the Global Rotator Infinity can cut angles K,V, X, Y, I with max bevel angles +45° to -45°.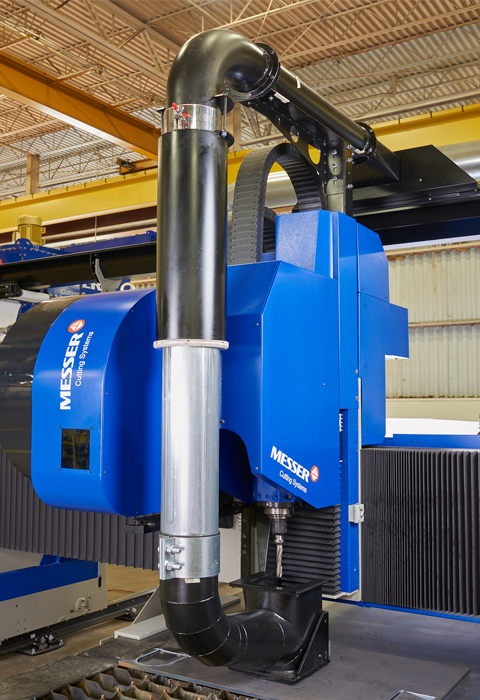 Chip Vacuum Extraction and Collection
---
When cutting, drilling, milling, or marking plates, you will typically create "chips" of material that can accumulate on the workstation. The MPC2000 MC has built-in chip vacuum extraction and collection features to keep your work surface clean and clear. There is a collection hopper for recycling steel chips. A dust collector is required for chip collection.
Cutting Tables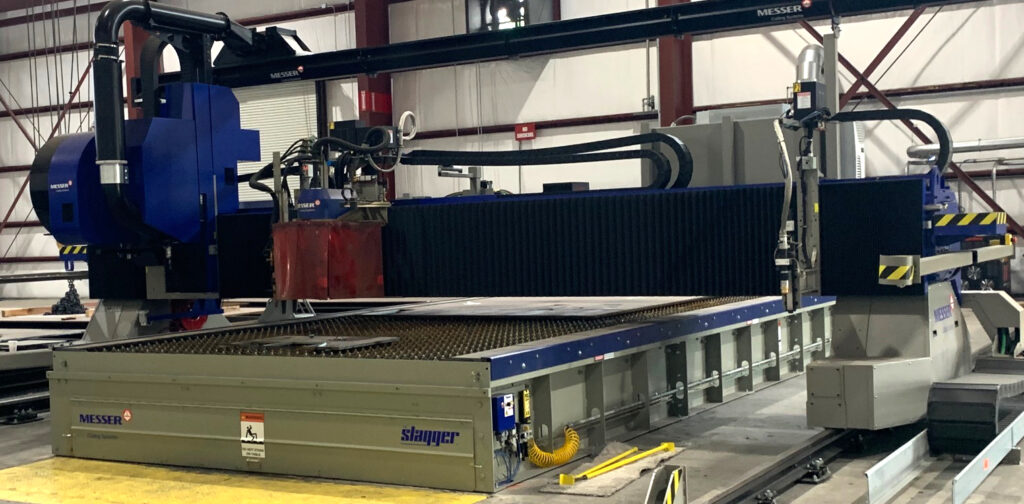 The Slagger®
The Slagger® cutting table is like no other in its ability to move slag. Whether produced from oxyfuel or plasma cutting, the slag moves from one side of the table and deposits the slag into a collection bucket at the end of the table in just minutes.
Widths from 6′ to 24′ (1.8288m to 7.3152m).
Lengths from 10′ to 200′ (3.048m to 60.96m).
Shuttle Tables
Our shuttle burn table will enhance productivity at your business by enabling fast and easy production as well as the flexibility that is simply not possible using other plate cutting systems. Combined with Intelligent Cutting™ software solutions for Material Handling and Industry 4.0 digitization advancements, your facility will greatly benefit from harnessing the power of the whole value chain.
Shuttle Pallets Key Features
Save time by using the shortest path for material loading and unloading in material handling applications. Plate loading and unloading take place at one end of the machine and at a common height for the operator to work freely without interfering with cutting operations or machine movement. Two burn pallets load one plate or remove parts while another is cutting without interruption.
Plate capacity: 6, 8, and 10-foot widths.
Plate lengths: 10 to 25 feet, offered in 5-foot increments.
Two plate thickness capacities: ¾ inch up to 2 inches.
Slat Trays for Drilling
A slat tray assembly is a fabricated structure that holds the slats and allows them to be replaced quickly in modules rather than individually. Drawings are available for users to make replacements. Optional designs include standard slats for drilling applications.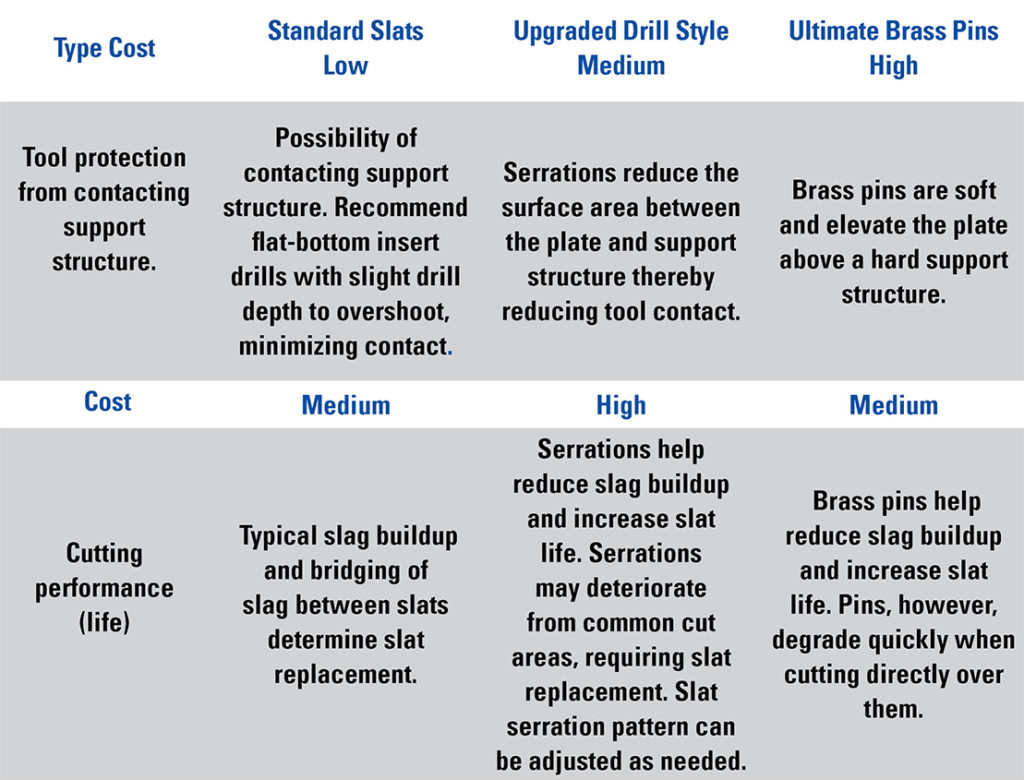 COMPONENTS
Contact
Messer Cutting Systems, Inc.
---
W141 N9427 Fountain Blvd.
Menomonee Falls, WI 53051
USA
Downloads
Messer offers a variety of process tools. All Messer machines are completely customized. The benefits of a customized cutting machine fit for your company's needs can make you the leader of productivity in your industry. When you need a machine that outperforms all others and provides you with the capability of bevel cutting, drilling, tapping, and marking, all on a variety of materials from thin plate to thick steel with an excellent cut part quality, then Messer Cutting Systems is your machine of choice.