Bevel cutting requires an exact knowledge of the laser machine and the cutting processes. Corners, lead-ins and run-outs have to be cut with special sequence if the required quality is to be achieved. Bevel cutting also places high demands on the programming of the cut parts. Special auxiliary functions are needed to set the units up for laser bevel cutting.
For example, with plasma bevel cutting, cuts must be repeated if the preparation consists of multiple bevels. It may be necessary to offset the cutting contour to a parallel one or the unit may have to be offset laterally. Depending upon the cutting process, a special start of cut geometries may be required. Additionally, the optimum technology parameters such as drive speed and cutting energy has to be matched to the bevel to be cut. Sounds complicated, and it is. But these are exactly the small specialties that characterize a "Messer Machine".
Messer Cutting Systems offers a variety of bevel cutting units, perfectly suited for your cutting applications. You choose out of oxyfuel, plasma, and laser beveling options, in both automatic and manual systems. The automatic systems are fully controlled, with no manual adjustments necessary.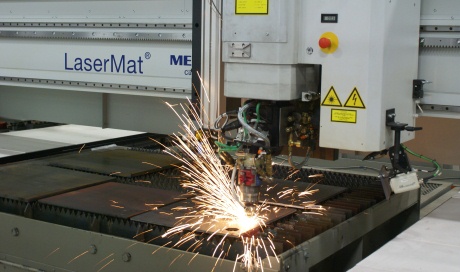 Key Features
Types of bevel I, V, Y.
Material thickness for beveling up to 5/8 inch (15 mm).
Material thickness for vertical cuts up to 1 inch (25 mm).
Max. Angle 45°.
Infinite rotation of the cutting head about its own axis.
Interpolation of the bevel angle (change on the fly from minimum to maximum torch inclination while cutting).
Positive and negative bevel angles in one part are possible.
Collision protection.
Laser Options
Messer Cutting Systems, Inc.
---
W141 N9427 Fountain Blvd.
Menomonee Falls, WI 53051
USA