Celebrating 60 years of precision cutting technology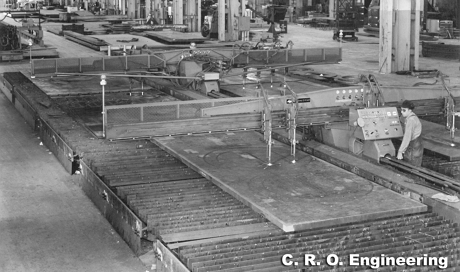 Photo Above: Messer formally C.R.O.'s first machine the Profimill.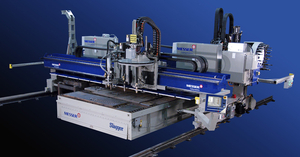 Photo Above: Sixty years later in contrast TMC4500 Dual Beam, is the biggest and most powerful heavy-duty work-horse in Messer's machine line.
Menomonee Falls, WI – Messer Cutting Systems celebrates 60th Anniversary and 60 years of precision cutting technology in North America.
In the US, Messer Cutting Systems began under the name CRO Engineering. CRO stood for the first names of the founding partners Carl, Rudy, and Orville and was incorporated in 1955 as a flame cutting machinery manufacturer with three employees working in 3,000 square feet of rented space in Milwaukee, Wisconsin.
CRO Engineering pioneered many of the fundamental applications which are common today such as NC control, CNC control and laser cutting. In 1969, CRO Engineering delivered the first American built numerically controlled laser cutting machine for shape cutting titanium in the aerospace industry.
In 1968 at a welding fair in Essen, Germany, CRO displayed the first American built plasma arc gantry cutting machine controlled by an NC system. The prominent company Messer Griesheim GmbH, with cutting history dating back to the late 1800's, saw the machine as new competition and purchased CRO in 1973 and changed the name to MG Cutting Systems which became MG Systems & Welding and eventually Messer Cutting Systems, a subsidiary of Messer Cutting Systems GmbH Germany.
Currently, Messer Cutting Systems is located in a 100,000 square foot facility with 190 employees in Menomonee Falls, Wisconsin. They manufactures oxyfuel, plasma, and laser plate machinery for a wide range of industries including steel service centers, metal fabrication, structural steel, agricultural, energy, shipbuilding, transportation, and construction.
"Messer Cutting Systems challenge for the past 60 years, has been to provide the best machines and support that optimize technology and process advancements to meet customers ever increasing productivity needs," says President and CEO Bill Heller. "Machines have gone from cutting with slow, yet effective, oxyfuel to the exponentially higher speeds and performance of plasma and laser. Control systems that were once the size of a phone booth with the smarts of a low-end calculator have been replaced with ever advancing PC technology. Staying at the forefront in advancements has allowed Messer to meet customer's continual needs for the past 60 years and has laid a strong foundation to meet these needs going into the future."
Messer has expanded their offering to include optional features such as beveling units, markers, lifters, drills, fiber lasers, material handling and accessories. Messer has sales and service offices located throughout the United States, Canada, and Mexico.