Plasma Technology: In the driver's seat

Left: when it comes to cutting parts, manufacturers need cut quality, smooth surface edges and speed.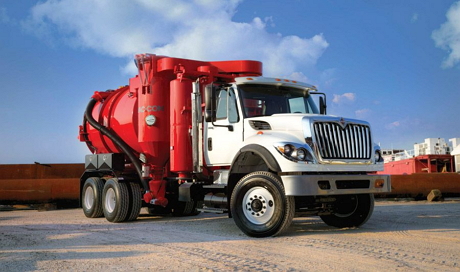 Above: Steel truck components mus be cut with precision plasma or oxyfuel cutting machines. Photo courtesy of Vac-Con.
How Messer Cutting Systems helps fabricators navigate the digital highway with technology and Automation.
It's estimated that Industry 4.0 could contribute as much as $14.2 trillion to the world economy over the next 15 years. The prediction is based primarily on the Internet of Things' promise to improve productivity, reduce operating costs, and enhance worker safety through connectivity, cloud computing and social networking. Flexible machines also play a key role.
Messer Cutting Systems, a manufacturer of oxyfuel, plasma, and laser cutting systems in Menomonee Falls, Wisconsin, is engineering plasma cutting machines to plug and play in a digitized landscape. A production monitoring and reporting system with Global Control and Virtual Service capability; the introduction of the MetalMaster Xcel; and the launch of a new social media website www.plasmacuttingpros.com are among the advances that have users talking.
Plasma cutting is an integral link in parts production for most industries, some of which carry a hefty gross domestic product impact on the United States. Take shipbuilding: It has a GDP value of $36 billion and consumes steel and other materials, which are cut, bent, and molded to build frames, vessel bodies and interior components.
In 2013, there were 117 shipyards in the U.S., with ship construction and repair employing 107,240 people. In the commercial sector, cruise lines have placed orders for ships to be built through 2022.
The heavy truck market makes up 5 percent of the national GDP. Plasma/oxyfuel bevel cutting machines cut, drill and mark steel for custom frames. Approximately 1.2 million companies populate the U.S. trucking industry and employ 8.9 million people. The global market for metal art tops both industries with annual sales of $66 billion. Fourteen programs for metal arts, eight exclusive galleries and 30 museums in the U.S. are dedicated to metalworking artists who cut, cast, form and join unique pieces from carbon and stainless steel and aluminum.
ELECTRONIC HIGHWAY
"The social website was new for us," he says. "Analytics showed we were getting more traffic on our website. When we looked at the demographics of individuals looking for equipment, we found most prefer to search the web. Our social site takes Messer's online presence a step further by creating a community space and discussion platform for metal cutting experts."
Plasmacuttingpros.com launched in August to give customers and peers a forum to exchange ideas, information, research, work achievements and other topics related to plasma cutting. Messer is also focused on the evolution of its equipment and how it services customers.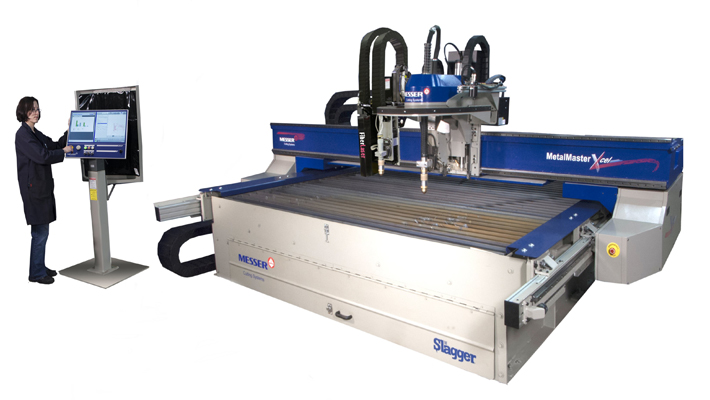 Above: Multi-tool cutting machines gives users with plasma / fiber laser cutting, oxyfuel cutting, drilling and beveling.
"Computers are driving everything," Toberna acknowledges, adding that most plasma cutting models have basic features such as a gantry. But "new developments really focus on the next-generation motor or control that might have features that previously were not possible to design because we didn't have the technology, electronics or computing power."
With 15 patents to its credit, Messer understands the law of progression. The company was established in 1955 as CRO Engineering, an acronym of the founding partners' names: Carl, Rudy and Orville. Under their leadership, CRO pioneered a number of elemental applications like numerical control and computer numerical control.
In 1968 the company introduced the first American-built plasma arc gantry cutting machine with a CNC system. The following year it delivered the first American-built numerically controlled laser cutting machine to the aerospace industry for cutting titanium. The product captured the attention of Messer Griesheim GmbH, which led to its purchase of CRO in 1973.
Today Messer is a subsidiary of Messer Cutting Systems GmbH Germany.
"We consider ourselves a true manufacturer," says Toberna. We continue to invest in this approach because we want to stay in the designer's seat. We know if we want to be innovative we have to lead and drive technology."
Messer has created the Global Reporter, a tool that gives managers data to increase a cutting machine's arc-on-time. It stores and organizes a wealth of data that managers or operators can quickly view in real time to evaluate a machine's production status. Fabricators can install and access Global Reporter using the internet.
Messer's Virtual Service can reduce downtime on a cutting system by permitting its technical experts to remotely diagnose problems that used to require an on-site visit and eliminates the cost associated with sending a technician into the field, Toberna says. "With this connectivity and information exchange our technicians can troubleshoot and respond to application questions quickly, while the operator watches each step on the machine's Global Control."
Fabricators can also use time wisely with more advanced material handling solutions for plasma cutting operations.
"One of the biggest problems we see is lost time on the shop floor," says Toberna. "When a customer is done cutting plate, the machine stops, parts are removed and [uncut] plate is loaded. That process can take up to an hour with traditional equipment. Our shuttle system loads and unloads plate without affecting the cutting operation other than during a pallet transfer which, depending on pallet size, can take anywhere from 45 seconds up to two minutes. Customers using this system tell us their productivity has improved 40 to 60 percent."
Messer's automated storage and retrieval systems can improve throughput by as much as 90 percent over antiquated methods. Partially cut plate can be stored and recalled until it's fully consumed. The system can also be equipped to service multiple towers, plasma cutting machines, and load and unload stations. The system knows which process is being used—whether plasma, oxyfuel or fiber laser—so that the right cutting method is applied to the right job.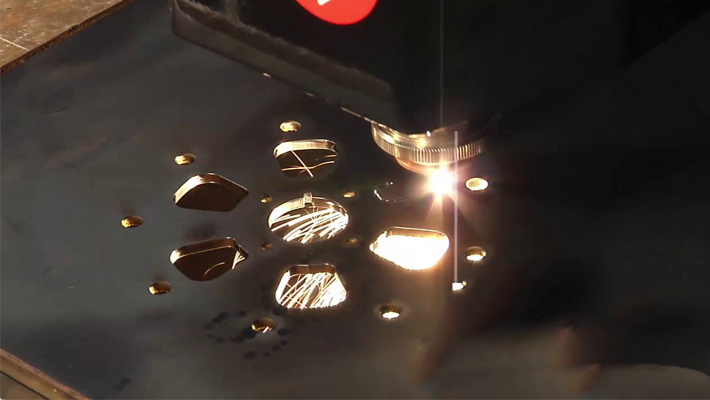 Above: The MetalMaster Xcel delivers a traverse speed of 3,000.00 ipm for faster trasition from one pierce point to the next.
A LISTENING EAR
Messer recently introduced what it claims is the fastest plasma cutting machine available. The MetalMaster Xcel provides traverse speeds of 3,000 ipm, says Toberna.
"It's really two machines in one. It has multitool capability that includes plasma beveling, oxyfuel, and plasma/fiber laser cutting and drilling. The plasma/fiber laser combination means an operator can cut critical internal features with the fiber laser then use plasma to cut external features without moving the part to another piece of equipment. It's another way to increase productivity."
"More and more customers are bringing their cutting operations in-house," says Toberna. "They are dealing with changes in cut quality, thickness ranges and the need to increase cutting speeds to produce parts more efficiently. Our mindset is to listen to our customers and understand what they are trying to accomplish so that we can provide the right solution—one that will help solve their problem and give them a faster return on their investment." FFJ
By Lynn Stanley
FF Journal
Sources:
Messer Cutting Systems
Menomonee Falls, Wis.
phone: 262/255-5520
www.messer-cutting.com