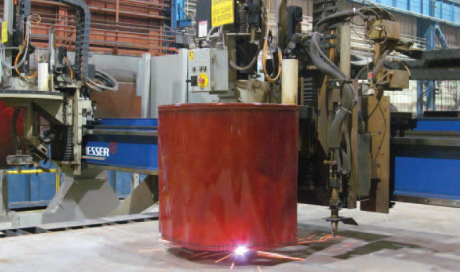 Photo Left: Holtech Manufacturing's primary cutting table is equipped with dual plasma cutting heads, one which also has oxyfuel torch.
New plasma cutting tables speed fabrication of heavy steel into mission-critical capial equipment.
February 2014 – Located just east of Pittsburgh in Turtle Creek, Pa., Holtec Manufacturing Division operates one of the largest fabricating facilities in the U.S. Most of the mills are now gone, but the area, nicknamed Steel Valley, is still known for steel production and high-quality steel fabrication.
A division of Marlton, N.J.-based Holtec International, Holtec Manufacturing turns heavy steel plate into a variety of capital equipment for the energy industry, much of it for fossil and nuclear power plants. Its roughly 370 employees work in the same structures where until the late 1980s, Westinghouse manufactured power plant turbines.
"Our predecessor, U.S. Tool and Die, rented space here in 1991," says Daniel Miller, shared services operations manager for Holtec Manufacturing. "Holtec bought U.S. Tool and Die in 2004, and when I came in 2006, we had 150 employees and 180,000 square feet." Now the company is the facility's largest tenant with nearly 700,000 square feet of space, subdivided into a warehouse, an adjacent service center and fabrication shops for final assembly.
Many of Holtec's products are large tanks, canisters and cylinders for use in the nuclear power industry, all made from carbon steel and stainless steel. "Our raw material comes out of the warehouse over to the service center," Miller
says. "Almost all of our products are plasma cut or oxy-fuel cut. All of our heavier plate, 1-inch to 3-inch carbon, any of our 1⁄2-inch to 1 1⁄2-inch stainless, is all cut on our Messer plasma cutting tables." Based in Menomonee Falls, Wis., Messer Cutting Systems offers a variety of options for metal cutting.
Holtec purchased its first Messer cutting table in 2009. Equipped with dual cutting capabilities, it has both a plasma torch and an Alfa oxy-fuel torch. In 2013, the company purchased a second Messer cutting table, a bit smaller with just plasma. "We were so impressed with our original Messer that we went out and found another one," Miller says.
Both tables are 100 feet long, which is a good thing for large projects. "Most of the plate we cut is from 220 inches to 480 inches long," Miller says. "Our shell plates for our main products are generally cut out of 475- or 480-inch plate."
Business is brisk, so the company currently runs three shifts a day, five days a week, with skeleton crews on the weekend when needed. "We do have waterjet and laser cutting capabilities as well, but our two Messer tables are pretty much the lifeblood of our operation," Miller says.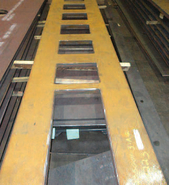 Above: Many of Holtec Manufacturing's primary products are cut from 40-foot-long steel plate.
Why they upgraded equipment
Miller says when he came to Holtec as maintenance manager, the company was using two cutting tables—both more than a decade old. It didn't take much investigation to confirm a new cutting table would yield big benefits.
"The beveling capability Messer offers was a real attraction to us," Miller says. "With that we were able to eliminate a process from our shop floor. We don't have to take it to a separate station anymore to mechanically bevel both sides of the plate. Now our weld preps are all applied to the required plates during the burning process. And with a little bit of cleanup, they're ready to be welded."
The company opted for a dual-head setup on its first Messer table to enable cutting with either plasma or oxy-fuel. Its straight-cutting Alfa oxy-fuel torch avoids numerous setup and maintenance problems through its internalized features, which include magnetic height sensing integrated into the torch. Also, the torch nozzle is changed without tools, eliminating torch alignment problems.
"Their oxy-fuel torch is a step ahead of most," Miller says. "It runs completely different than any other oxy-fuel torch you might be used to. It cuts much cleaner and faster, almost as clean as plasma. When we cut 3-inch carbon, it's very clean and dross free. There are very few issues with kerf control and it cuts probably 35 percent faster than our old oxy-fuel torches."
But there is a down side, Miller concedes, for some. His most experienced and highly trained people "had the biggest learning curve to get over on how to set this torch up," he says. Not so, however, for inexperienced operators. "When they are trained by Messer, that's all they know, so they do it right," Miller says. "They pick it up very quickly. They don't have old habits to break."
That's true, says Joerg Toberna, marketing director of Messer Cutting Systems. "We say oxy-fuel cutting is the 'black-art' of the cutting world because there was no real automation back in the day. Operators had to teach themselves through experience how to set up and adjust gas pressures, pierce rates and creep speeds to get good cuts. With our Global CNC control coupled with our Alfa torch and Omniflow automatic gas control, an operator just has to pick a material thickness in the database and the Global control sets all of those parameters. Sometimes the experienced operators have a hard time believing it is that easy, but they do come around."
Another time saver
The cutting table Holtec purchased first has a Slagger table that Miller says has been a bonus. "Once we understood what that feature entailed, we were sold," he says. "Between the beveling and the Slagger, we saw a lot of opportunities there for improvement."
Messer's downdraft Slagger table mechanically collects all the slag and dross that has fallen to the floor to one end of the table for easy removal without any disassembly.
"It's like a gear rack driven bulldozer," Miller says. "When the operator's not running the machine he can park the head at one end of the table, push a button, and this bulldozer shoves everything out the end of the table into slag buckets right in the floor."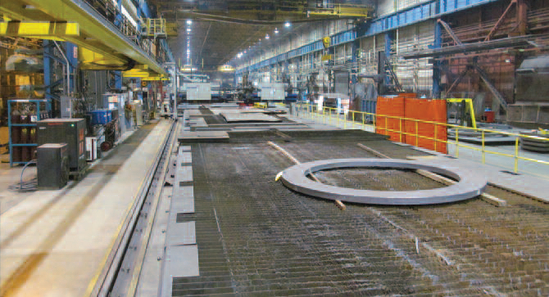 Above: Most of the steel Holtech Manufacturing uses is initially cut on one of two 100-foot-long Messer Cutting Systems cutting table.
For someone who hasn't been responsible for maintenance, this may not seem like a big deal. But it is. "You don't have the huge amounts of downtime to clean up your table every three to four months like we used to have with our water tables," Miller says. "We went from basically needing a three-man crew and a one-week shutdown every four months to clean the table to just having the operator hit a button every two or three days." Table slats still must be replaced periodically, but cleanup time has been diminished significantly.
Holtec's second Messer machine is equipped only for plasma cutting. Miller says even though that table is not Slagger-equipped, "it's still a much better table than the old water tables. It has slag boxes—you just pull the slat trays off, lift the boxes out and dump them. But it's not quite as slick as the Slagger system."
And another thing…
Other features of the Messer system also support operations at Holtec Manufacturing. Some of the machine's little details —for example, the sweeps on the rails—also make a big difference for operation and maintenance. "The rails that this machine runs on have motorized brushes that sweep the rails instead of using air, or nothing at all. That was impressive to me," Miller says. And, of course, clean rails contribute to consistent, accurate cutting performance.
"As far as bringing in new operators, the control system is more user friendly than a lot of the older machines that still work off of a Burny control or use G and M codes," Miller says. "This machine does most operations with pictures. You tell the machine what you're going to cut, how thick it is, what type of material it is. It spits out a list with pictures of the consumables you need to install, which makes it really user friendly."
And then there's the camera system. With this option in place, an operator can set up plate position using an overhead camera installed in the head. "The camera has crosshairs on it so that you're not using a laser pointer or you're not pointing your torch to the corner of the plate," Miller says. "You just put the camera right on it and put the crosshairs on your zero point for plate positioning." All things considered, it sounds like these cutting systems have become the operator's best friend. MM
SOURCES