Messer Cutting Systems' MetalMaster 2.0 is a high-performance, compact and low-cost plasma and oxyfuel flatbed cutting machine. Delivering peerless cut quality at such an affordable cost, the MetalMaster 2.0 cutting machine can be installed and operated quickly and easily.
Businesses with a need for an economical machine that delivers supreme precision and powerful performance with a small footprint need look no further than the MetalMaster 2.0. This finely crafted cutting machine is economical, it is a light industrial machine made for simple plasma cuts, oxyfuel cuts, or a combination of plasma and oxyfuel cuts.
Because Messer Cutting Systems' MetalMaster 2.0 is such a compact and space-saving cutting machine, the unit can be installed quickly and ready for use.
The MetalMaster 2.0 burn table features high position speeds as well as a fast, intelligent torch lifter that reduces nonproductive times.
MetalMaster 2.0 Plasma and Oxyfuel Cutting Machine Applications
Plasma and oxyfuel cutting machines such as Messer Cutting Systems' MetalMaster 2.0 are often used in fabrication shops, hobbyist shops and light industrial construction jobs. The MetalMaster 2.0 may also be used to cut needed parts for vehicle repair and restoration as well as salvage and scrapping operations.
Key benefits of the MetalMaster 2.0's design are its small footprint and fast and simple installation. Moreover, its compact touchscreen and operating system is easy to learn.
Thanks to the MetalMaster 2.0's high-speed and precision cuts along with its compact size, fast setup and low cost, it's recognized for its versatile uses.
Contact
Messer Cutting Systems, Inc.
---
W141 N9427 Fountain Blvd.
Menomonee Falls, WI 53051
USA
Downloads
Key Features of the MetalMaster 2.0 Cutting Machine
Ergonomically designed with stable table construction and integrated extraction.
Highly accurate and reliable performance with positioning speeds of up to 114.83 feet (35 meters) per minute.
Maximum working width with minimum space requirements.
Fast and easy installation.
Integrated guidance.
Twin-sided longitudinal rack and pinion drive.
Low and affordable price.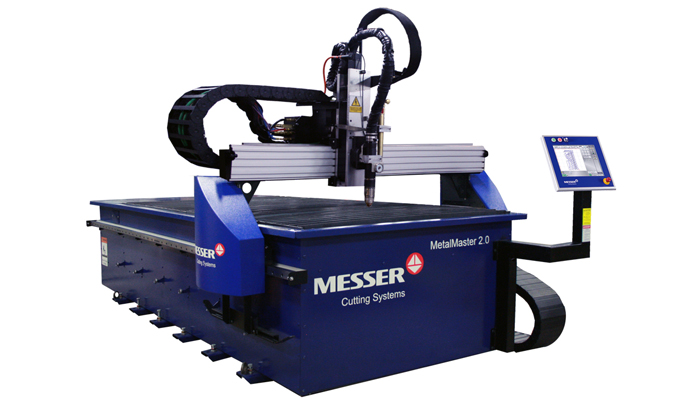 All Standard Features

Compact design.

Cutting width from 5 feet and cutting length up to 10 feet.

Hypertherm Powermax 125 plasma torch for cutting material up to 1 inch thick comes standard on this machine. 

Cuts mild steel, stainless steel, and aluminum.

Positioning speed of up to 1300 IPM reduces idle time between cuts.

Control console mounted on the right side of the machine for ease of access and safe operation.

Easy access to a cutting table for quick and easy plate loading and unloading.

Specially designed slag buckets for easy table cleaning.

Global Control 2.0 user-friendly touchscreen panel with a Windows® interface.

Virtual Service™ remote diagnostics.

Glare shield.

Laser pointer.

CSL torch lifter.

Reliable height control via arc-voltage sampling improves nozzle life and cut quality.

UL/CUL.
All Optional Features

Turbo Flame™ oxyfuel torch with Omniflow gas control.

Hypertherm's XPR170 and XPR300 with plasma cutting up to 2-inch thick material.
How a Plasma Cutting Machine Works

Determining the right plasma cutting machine for your business can be challenging, especially if you don't know what the plasma cutting process is. Plasma cutting machines work by delivering an electric arc through a gas that passes through a restricted opening, or nozzle. The gas may take many forms such as argon, nitrogen or oxygen. The electric arc lifts the gas's temperature so that the gas itself enters a state of matter beyond a solid, liquid and gas / plasma.
Because the metal being cut is part of the circuit, the plasma's electrical conductivity causes the arc to transfer to the work. The gas's passes through the nozzle at a very high speed. This high-speed gas is able to cut through molten metal. Plasma power amperage depends on the thickness of the plate being cut. On the MetalMaster 2.0 plate, cutting is up to 2 inches thick. Please visit our Machines page for different machine types and equipment.
MetalMaster 2.0 Special Features in Focus
The MetalMaster 2.0 cutting machine boasts a number of special features worth spotlighting, from its Global Control 2.0 to its zoned and ducted table.
Global Control 2.0
The MetalMaster 2.0 cutting machine comes with Global Control 2.0, our exclusive CNC control, with a compact touchscreen and Windows® interface. Global Control 2.0 features a custom shape library, CAD import, true-shape nesting, multiple process database with productivity monitoring and Virtual Service™ remote diagnostics.
The Global Control 2.0 user-friendly touchscreen requires only just three clicks from loading the part program to being ready to cut. Easy-to-learn functions enable employees to become expert operators in minutes.
Global Control 2.0's free-standing console keeps sensitive electronics away from the heat and dust of cutting.
CSL Lifter With Surestop Collision Sensor
The MetalMaster 2.0 cutting machine also comes with the CSL Lifter with SureStop Collision Sensor. The standard plasma cutting is up to 1 inch, with Hypertherm's optional XPR170 and XPR300 models cutting material as much as 2 inches thick. Quick and easy to realign, the CSL Lifter's torch breakaway protects the torch while cutting and jogging, preventing torch damage.
X and Y Axis Drives
Dual AC servo motors in the MetalMaster 2.0 cutting machine are coupled to precision planetary gear reducers, driving the machine on large 1.25 by 1.75-inch Gudel ways. The 1.875-inch-diameter full-capture bearings in the Y-axis glide along on precision ground and polished circular ways, with the carriage driven by the AC servo motor.
Zoned and Ducted Table
A smoke removal system with clean-out buckets is standard on the MetalMaster 2.0 cutting machine. The zoned and ducted cutting table includes a longitudinal duct built into the side wall of the table with a convenient exhaust takeoff for low-cost connection to an optional dust collector. Six 20-inch zones with cam-actuated dampers minimize the dust collector's fan size by limiting smoke extraction to the area beneath the torch.
SPECIFICATIONS OF THE METALMASTER 2.0 CUTTING MACHINE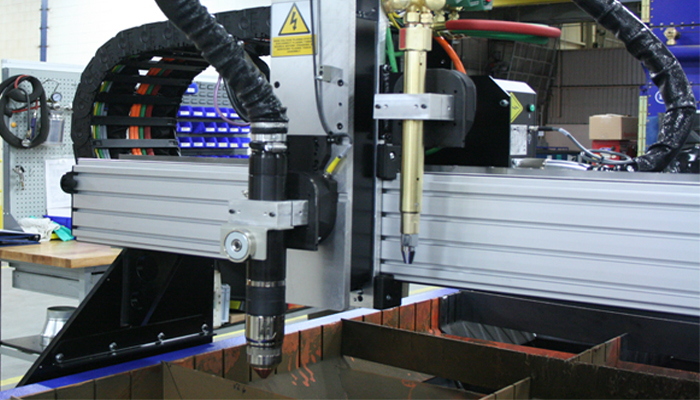 Cutting width: 5 feet (60 inches)
Cutting length: 10 feet (120 inches)
Overall width: 9 feet (108 inches)
Overall length: 19 feet (228 inches)
Table height: 3 feet, 3 inches (39 inches)
COMPONENTS
Messer cutting systems cutting machines are all complete customized.  See what optional features we offer.