Donaldson is the largest dust collector company in the world, and they've partnered with Messer Cutting Systems since 1990. The Donaldson DFE® Series has been customized for Messer Cutting Systems' processes and features a downward airflow pattern and Donaldson MERV* 15 True Nanofiber Filtration Technology.
As the inventor of the cartridge dust collector, Donaldson Torit® provides the most complete range of cartridge collectors that cost-effectively enhance productivity and manufacturing efficiency. Our cartridge collectors are engineered to capture the broad spectrum of dust particles that can inhibit production environments.
EPA-sponsored research has found that the downward flow of the dirty air stream reduces re-deposition since it incorporates gravity when moving dust particles toward the hopper.
Industries Served:
Metal & Machining
Agriculture
Mining & Minerals
Pharmaceuticals
Wood, Paper, and Pulp
Industrial Processing
Donaldson Torit dust collector options for cutting:
14 standard collector sizes available.
Standard direct and floor mounted fans available.
15 True Nanofiber Filtration Technology.
Horizontal filter arrangement with downward airflow.
Numerous collector options include airflow controllers and discharge devices.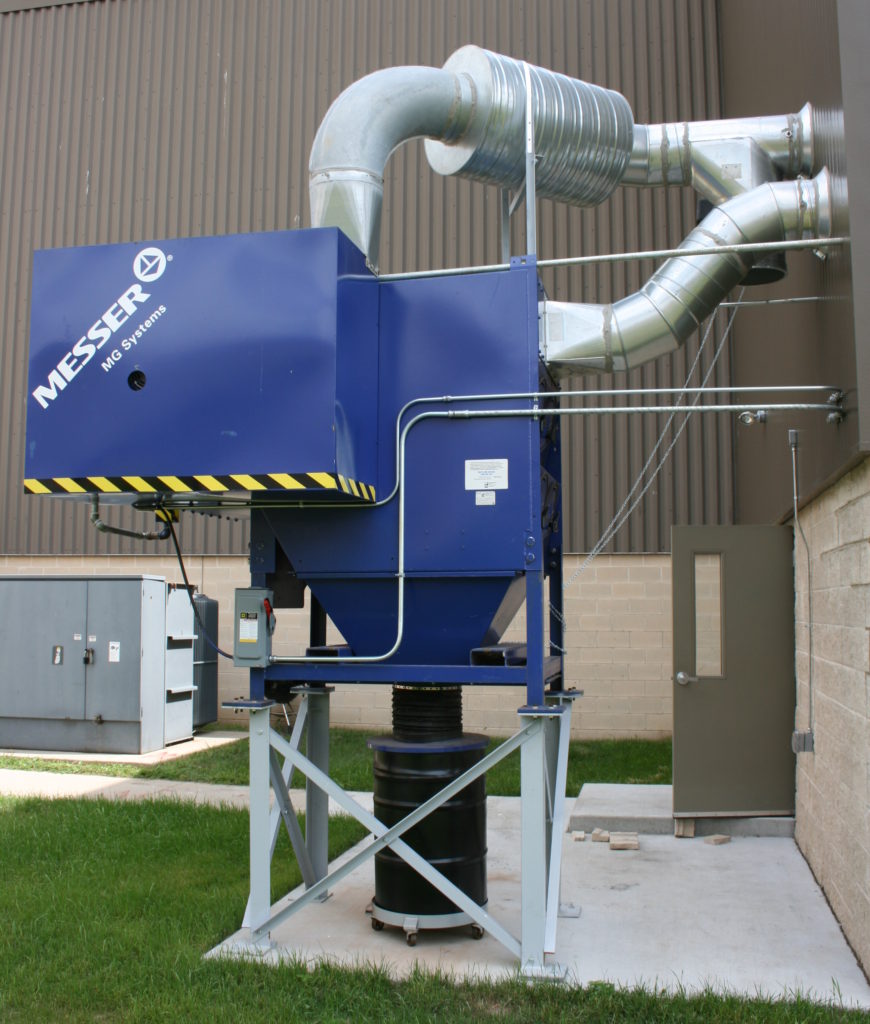 Determining the Right Size Dust Collector for Cutting
The size of a dust collector is dependent on the required airflow to contain the fume and particulates. Generally speaking, the wider the cutting table, the greater the airflow required to contain the dust, and consequently, the larger the dust collector required. Other variables also influence airflow, including the size of the table, the fraction of the table covered by the workpiece, and the number of open zones within a table during the cutting process. Downdraft tables are often partitioned (or zoned) to reduce the total airflow required to capture dust effectively, thus reducing the size of the collector. The collector size is tailored based on several factors including the number of cutting heads, the cutting technology (laser, plasma, oxy-fuel, etc.), the material being cut, cutting speed and torch on-time, and cutting table type. For larger workpieces, multiple cutting machines may be integrated within a single downdraft table.
The airflow through the cutting table must be sufficient to generate a downdraft velocity at the surface of the table to overcome rising fumes. The downdraft velocity is the minimum velocity of air required to prevent fumes and particulates from escaping the cutting table and for thermal cutting applications is typically 150-250 ft/min but can vary with table design and size.
How do Donaldson dust collectors work?
The use of a dust collector will improve air quality in industrial settings such as manufacturing, processing, and machining plants. Simply put, it removes contaminants from the air and environment.
An underperforming dust collector is often the result of very high dust loading, ineffective cleaning, or a combination of the two. Left unchecked, these problems can result in unplanned downtime and increased operating costs.
So, while this is not necessarily an exhaustive rollout of potential issues, listed below you will find a handy checklist of measures to avoid costly shutdowns and frequent filter changes.
Checklist:
Compressed air pressure must be always within the limits of constructor recommendations.
Compressed air should be oil and water-free.
The quantity of compressed air available should be sufficient for all users that perform simultaneous tasks.
The hopper is not meant to be used for storage. Evacuation equipment (rotary airlocks, screw conveyors, etc.) should be sized to unload the hopper before any accumulation occurs. Check and empty the dust bin regularly to prevent dust from the hopper from coming into contact with the filter element.
Know about pressure drop: Increasing pressure drop across the collector affects the ability of the dust collection system to capture dust. A simple but important safety requirement is to change filters when airflow reaches a differential pressure (above the specified maximum specifications) or 120 – 150daPa / 4.8 – 6.0 in. wg.
Filters look dirty? Good! The rule in dust collection is that you don't touch filters even when they look dirty because this is proof they are working well. Dust cake on filter elements facilitates filtration. The only way to tell if filter elements are saturated and should be replaced is to look at the pressure drop of either the differential pressure gauge on the collector or the controller. Specifications vary according to the constructor; for example, the maximum pressure drop for Ultra-Web® cartridges is 150daPa / 6.0 in. wg. At this pressure drop, the cartridges are saturated and the compressed air pulsing system can no longer run full filter cleanout.
All for one and one for all: All cartridges in a dust collector must be changed at the same time. Why is that important? In general, cartridges must be allowed the time to condition themselves and become efficient. New filter cartridges have less resistance than old ones under operating conditions. When mixing old and new filters, the airflow will automatically pass through the least resistant path and circulate around new cartridges. This will force the fan to pull dust particles so deep into the new media that they will eventually become impossible to pulse-clean. Soon, these cartridges will be saturated and will have to be replaced earlier than planned.
Pulsing matters: Diaphragm valves must be checked yearly. Particularly when new cartridges are installed, it is recommended to check valves and ensure that filters are cleaned properly from the very beginning. It serves the budget too: the price of replacing diaphragm valves is much lower than the price of replacing old filter cartridges with new ones due to inadequate pulsing.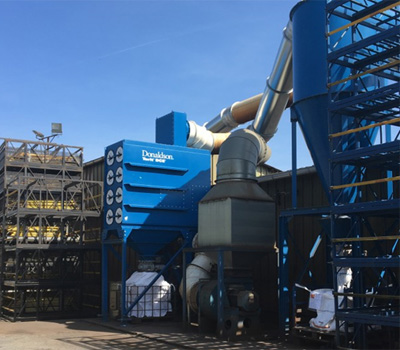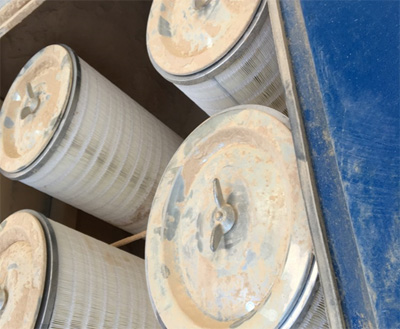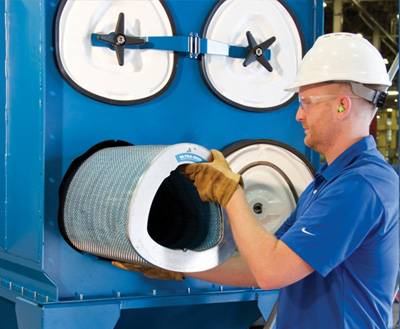 The Benefits of Surface-Loading Filter Media
The fine particulate generated by thermal cutting applications requires high-efficiency cartridge collectors to perform well. Surface-loading, nanofiber media, and downward airflow patterns increase collector performance dramatically. Nanofibers aid in the removal of the very fine particulate from the airstream through several filtering phenomena including, interception, diffusion, and impaction. The nanofibers increase the overall efficiency of the filter media, and they force the particulate to accumulate at the surface of the media where pulse cleaning can be effective. The downward airflow pattern is also critical for stabilizing differential pressure on thermal cutting applications. As the cleaning system pulses, the downward airflow assists with evacuating fine particulate and fume from the surface of the filter. Cartridge filter media without nanofibers often allow particulate to embed within the media fibers, resulting in a reduced airflow to the cutting table and shorter filter life.
The Need for Hazard Analysis
As with any process, customers should perform a hazard analysis before selecting a dust collection strategy. Sparks are typically present in any thermal cutting process, and collected dust may be a combustible presenting explosion and/or fire risks. An integrated Messer Spark Trap may reduce these risks. Ignition source mitigation strategies should be a consideration for any dry dust collector strategy. In addition, consideration of risks capturing particulates from different metals should be included. The National Fire Protection Association (NFPA) publishes a number of standards to help mitigate risks associated with combustible metal dust.
In recent years, the Occupational Safety and Health Administration (OSHA) significantly reduced the permissible exposure limits (PEL) of many dust types such as hexavalent chromium. This can be an issue for applications that cut metals with chromium such as stainless steel, which is significantly higher than other common metals such as carbon steel or aluminum. A monitoring filter may be required in facilities that re-circulate air to reduce emissions from a cutting process.
Bring in the Experts
Considering the filtration challenges posed by thermal cutting applications, manufacturers should consult filtration experts at Donaldson or Messer Cutting Systems for dust collection solutions that meet the requirements of the agency having jurisdiction (AHJ), protect cutting machinery, and minimize worker exposure to the harmful fumes and particulate these applications generate.
Advantages of Donaldson Dust Collectors
Look to Donaldson for advanced and reliable dust, fume, and mist collectors and filters engineered to provide outstanding filtration efficiency and energy savings. No matter your industrial filtration requirements, we can provide the right solution for your company.
Product Reliability
The predominance of all those blue collectors across a wide array of industries is testimony to Donaldson Torit's industry leadership. We stand behind our products. For decades, Donaldson Torit® has offered manufacturers advanced and reliable dust, fume, and mist collectors and filters engineered to provide outstanding filtration efficiency and energy savings.
Replacement Filters & Parts
Using Donaldson Torit® replacement filters can significantly improve the performance of dust collectors. Uniquely engineered for longer filter life and higher efficiency, our filters provide the best value to our customers.
Expertise
Our continual investment in research and development has led to our position as the world's largest manufacturer of industrial air filtration solutions. As the inventor of the cartridge collector, Donaldson® Torit® has led the way for continuous innovation with award-winning products such as Torit® PowerCore® dust collectors and filter packs.
We offer the broadest range of solutions to meet your exact needs. We are experts in recommending the best dust collector solution tailored to you. No other manufacturer comes close to matching the innovation and breadth of technical expertise that Donaldson Torit incorporates into its dust collection solutions.
Real Support
Our vast service and support network includes project management, start-up assistance, and troubleshooting by a field-based network of experts. We offer service and support at all stages from up-front engineering to knowledgeable field resources, to after-sales and service. Worldwide support provides customers with advanced solutions and service, no matter the location.
Contact
Messer Cutting Systems, Inc.
---
W141 N9427 Fountain Blvd.
Menomonee Falls, WI 53051
USA