Plasma Technology – Timely Upgrades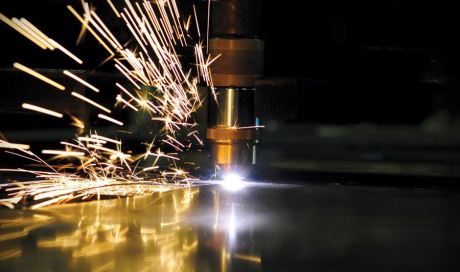 FF Journal, September 2012 © By Gretchen Salois
When times get tough, people tighten their belts, conserve where they can and try to do without. Unemployment statistics leave the public unsettled and unsure of what the future holds. While it can be easy to sensationalize the negative, the manufacturing sector is optimistic as companies make significant capital investments in their future to meet enlivened customer demand.
One example is Minerd & Sons, Inc., a full line steel service center in Lawrence, Pa., an hour north of Pittsburgh. The company provides its customers with metals and services such as plate and sheet flamecut to shape, bars and structural shapes saw-cut to length, rolling, forming, grinding and beveling on a wide range of metals, alloys and shapes. These include various grades of plain and alloy steel plate, bar and pipe, as well as Hardox, chromium carbide overlay plate, stainless steel and aluminum. Applications include equipment for mining, steel mills, the tractor trailer industry, and automotive, barge, rail and construction.
In 2011, the company found it needed to upgrade its plasma cutter. "Our older machine was becoming less reliable and we needed new equipment for the additional business we were getting," says Jeffrey Minerd, president. "We were running more shifts but still needed to be able to take on more work."
The company purchased an MPC2000 from Messer Cutting Systems Inc., Menomonee Falls, Wis. The precision gantry machine allows Minerd & Sons to plasma cut Hardox plate, which is used for bulldozer cutting edges. The machine completes the plate with countersunk square holes. "We can now burn plates with weld bevels already on them up through 1.5 in. thick," he says. "The five-axis plasma burns weld bevels evenly on a radius for anyone fabricating plate."
The MPC2000 is Messer's "heavy duty workhorse," says Joerg Toberna, marketing manager at Messer. "It can cover larger plate than other machines and perform multiple processes, like beveling," he says. The 16-ft.-wide MPC2000 gives Minerd & Sons the same cut quality as other models but "in a larger footprint," he says.
SMALLER SPACE, BIGGER JOBS
A similar problem arose for Angola, Ind.-based Vestil Manufacturing Corp. as customers wanted shorter lead times and less outsourcing of work that could be done in-house. "When our customer demand increased, our lead times from our vendors increased as well," says Malachi Metcalf, laser/plasma technician at Vestil. A different solution was needed, however, because space was tight.
Vestil purchased the Metal Master Plus from Messer in 2010. It is Messer's most accurate machine in a unitized construction, Toberna says. The high-precision machine is ideal for a shop that needs to cut large plate with high tolerances within a limited workspace, he says.
"Nowadays, we see that when dealing with a customer's facility, room is really key," Toberna says. "It is going to cost a customer more money to be able to squeeze in a large piece of equipment to cut a 6 ft. plate, for example, and they can't afford to do that. They're not able to add onto a building to add additional equipment."
Toberna says the unitized machines allow customers to cut accurately without the need to give up floor space. The Metal Master Plus suits smaller shops as well as larger companies. "The key is it's a compact, precise piece of equipment," he says.
"In the plasma cutting world, there's a lot of different parameters required to produce a quality part," Toberna says, adding that much of the plasma cutter's accuracy is based on how well the gantry machine is built. "The use of high quality components, electronics and of course the plasma system, are all required to produce a quality part," he says.
EASIER CLEANUP SAVES TIME
Operators for both Minerd & Sons and Vestil appreciate the safety and maintenance features built into Messer equipment. On the shop floor, operators at Minerd & Sons like Messer's downdraft slagger table, which allows them to cut stainless steels without fear of inhaling harmful hexavalent chrome fumes. "We also don't have downtime due to cleaning the slag out of the table," Minerd says. "We replace the slats on the table periodically, but that's a quick turnaround. We don't have to drain water from a water table or use pry bars to chip out slag and then refill with water; a time-consuming process."
The MPC2000's alpha torches give a fast, clean burn up to 12 in. thick at the rate of 500 in. per minute, according to Minerd. "The accuracy of the new plasma cutter [using] True-Hole technology [gives us] accurate small diameter holes for base plates or other bolting applications," he adds. "In the past, we had to spend a considerable amount of time grinding them—now we don't have to grind them at all."
Operators at Vestil also appreciate the easy-to-use slagger table from Messer. "At the end of each day, you can hit one button and clean everything out," Metcalf says, adding workers would otherwise need to spend an entire day each month digging all the scrap out of the machine. "Now it's a five-minute process that has increased productivity overall," he says.
When previously using a laser for its cutting needs, Vestil found it was limited to cutting sheet metal 3⁄4 in. thick. With plasma cutting, the company can cut up to 31⁄4 in. thick. "More companies come to us now because we can take on heavier orders, so that helped open up our customer base," Metcalf says.
At Minerd & Sons, the camera on the plasma head is also a valued feature because operators no longer have to climb onto the table to ensure the pierce points line up with the plate. "[Instead, they] can do that from the operator's console," Minerd says. Additionally, automatic height adjustments mean operators no longer need to worry about adjusting the torch tip's distance from the plate midway through the cutting process.
The remote diagnostics feature allows Messer's engineers to diagnose and even operate the equipment from its offices in Wisconsin. This saves on repair costs and downtime.
A 16-pin marking system enables Minerd & Sons to provide individual parts with names, PO numbers, part numbers and heat numbers, before cutting. "Our customers as well as our in-house quality assurance people really appreciate the obvious benefits," Minerd says. FFJ
Interested in purchasing reprints of this article? Click here
SOURCES
Messer Cutting Systems Inc.
Menomonee Falls, Wis.
phone: 262/255-5520
fax: 262/255-5170
www.messer-cs.com
Vestil Manufacturing Corp.
Angola, Ind.
phone: 260/665-7586
fax: 260/665-1339
www.vestilmfg.com