Your Highly-Flexible Drilling and Milling Machine
The MPC2000 is a multi-process Messer cutting machine and heavy-duty workhorse. This machine can be equipped with multiple carriages, as well as up to five separate processes including precision plasma beveling, oxyfuel beveling, 2″ drilling, and markers.
The MPC2000 features enhanced linear motion ways, and state-of-the-art AC servo drives provide dependable machine tool performance.
The rugged dual beam construction makes it tough enough to keep cutting, even through high production, working three work shifts with 24/7 operation. Long-life band drives and larger end-trucks offer strength and stability for improved accuracy, repeatability, and durability across a range of processes for workshop efficiency.
Built for Heavy Duty Construction, Structural Steel, Shipbuilding and Steel Service Centers
The MPC2000 is suited for ship builders and steel service centers alike. From Big Agra to the rail industry and a number of material handling environments, the MPC2000 can provide immense benefits with its durable construction, flexibility, and reliable performance across processes.
Suited for Transportation Industries
This versatile and flexible machine is suitable for a wide range of applications, from truck manufacturing to tank cutting. The MPC2000 performs well in a variety of industries and environments due to its highly-flexible design.
Standard MPC2000 Machine Features
The MPC2000 is a multi-process cutting machine designed for dependable, durable performance.
Performance capabilities include:
Cutting width: 8′ (2.438m) to 28′ (8.534m).
Cutting length: up to 200′ (60.69m).
Contouring speeds: up to 400 ipm.
Positioning speeds: up to 1400 ipm.
Material Thickness Capacity: 26 ga. to 8″ (203.2mm) dependent on process.
Materials Processed: Mild Steel, Stainless Steel, and Aluminum.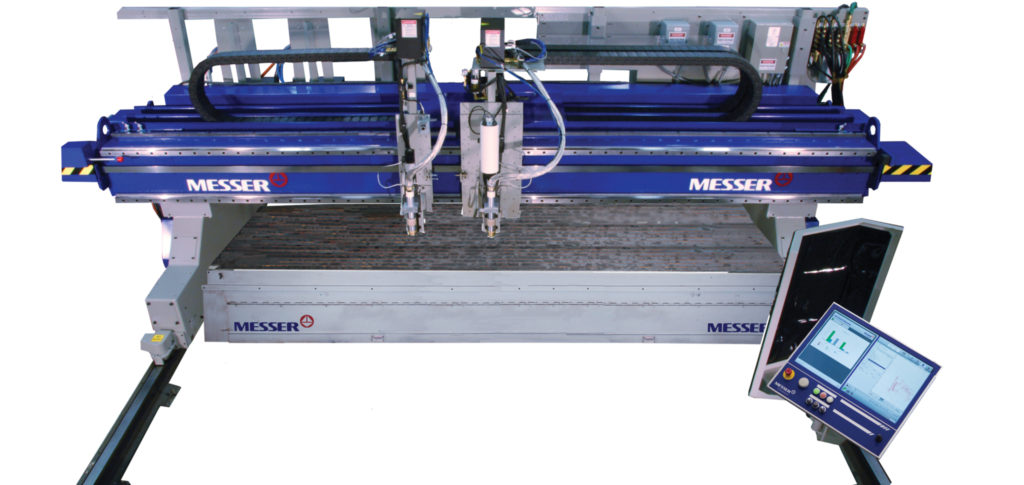 The dynamic construction of the MPC2000 also includes the following standard features:
Can be equipped with multiple carriages and up to five separate processes.
Includes linear motion ways and state-of-the-art AC servo drives.
Capacity to install a total of four separate tool stations, including plasma torches, oxyfuel torches, and markers.
SureStop Collision Sensor.
Remote consultation and diagnostics with Messer's Virtual and Visual Service™.
Global Plus Software
GlobalControlPlus comes standard on the MPC2000 with easy-to-use learn, touchscreen interface which is easy to comprehend, and operate. Equipped with the latest software technology, OmniWin, OmniBevel or OmniFab (tailor-made, customized workflow for maximum production).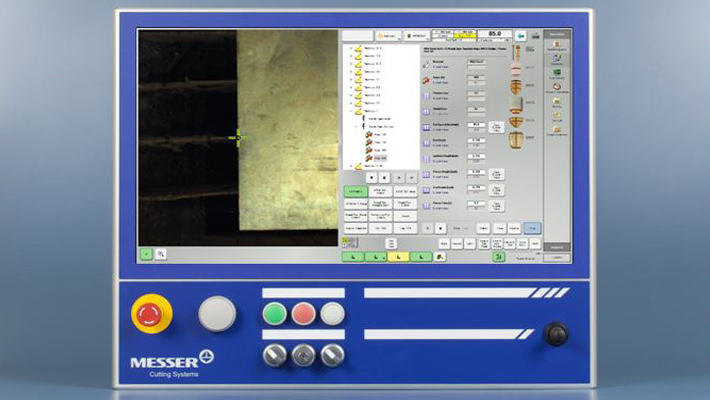 Contact
Messer Cutting Systems, Inc.
---
W141 N9427 Fountain Blvd.
Menomonee Falls, WI 53051
USA
Downloads
Optional MPC2000 Features
Here is a snapshot of additional optional features you can select. For additional optional equipment please see the Components section below.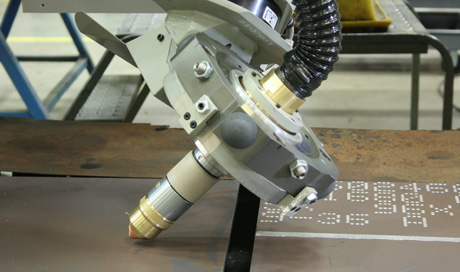 Curved Beveling Capacity Plasma
Plasma bevel cutters on the MPC2000 delivers clean, smooth cut part edges and precise cut holes with high accuracy and repeatability, as well as thicker material cutting capacity.
Your options for plasma beveling units include the Global Rotator Deltae (compound skew bevel unit) and Global Control Infinity (heavy-duty compound skew bevel unit). Both Rotators offer bevel types K, V, X, Y, I bevel angles, +45° to -45°.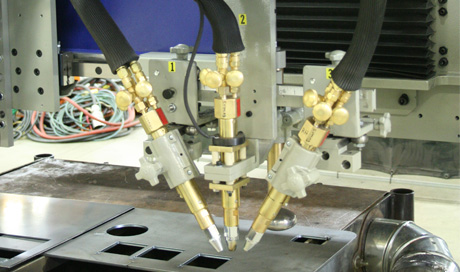 Curved Beveling Oxyfuel Capacity
For curved oxyfuel beveling, you can choose from the following units:
Triple Torch DAF/L with automatic positioning. Material thickness up to 3½", center torch straight up to 4 ¾ ", K, V, X, Y bevel types 15° to 45°.
Single Position and Three Position Oxyfuel Bevel Units with manual positioning.
Contour Bevel Unit with semi-automatic positioning. Material thickness up to 7 ¾ ", center torch straight up to 12", K, V, X, Y bevel types 15° to 45°.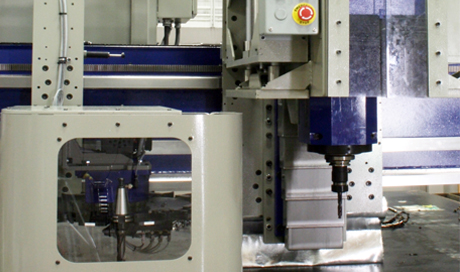 Drilling Capabilities
With the MPC2000, you'll have access to high-performance, reliable drilling to improve your drilling operations. All processes are done with the same set-up, providing accurate feature-to feature relationships, both within a single piece and part to part.
COMPONENTS
Messer offers a variety of process tools. All Messer machines are completely customized. The benefits of a customized cutting machine fit for your company's needs can make you the leader of productivity in your industry. When you need a machine that outperforms all others and provides you with the capability of bevel cutting, drilling, tapping, and marking, all on a variety of materials from thin plate to thick steel with an excellent cut part quality, then Messer Cutting Systems is your machine of choice.
---
Need a bigger machine?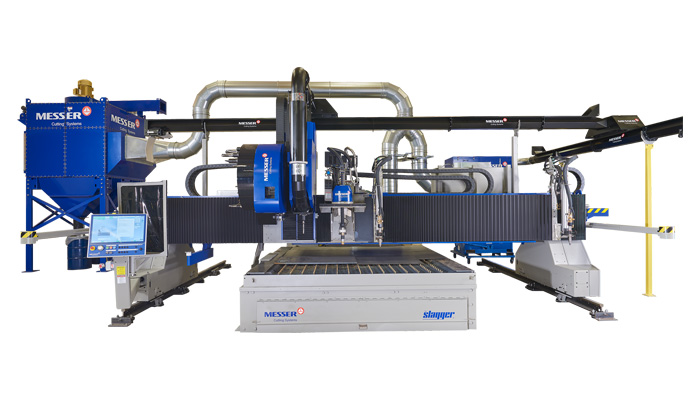 ---
Your Drilling and Milling Powerhouse
Your Drilling and Milling Powerhouse
For even more durability and flexibility, we've developed the MPC2000 MC, with increased capacity for a variety of processes and applications. With a rugged construction and maximum strength, stability, and repeatability, the MPC2000 MC is your powerhouse for heavy-duty milling, drilling up to 2.5", tapping up to ½", including a chip collection system.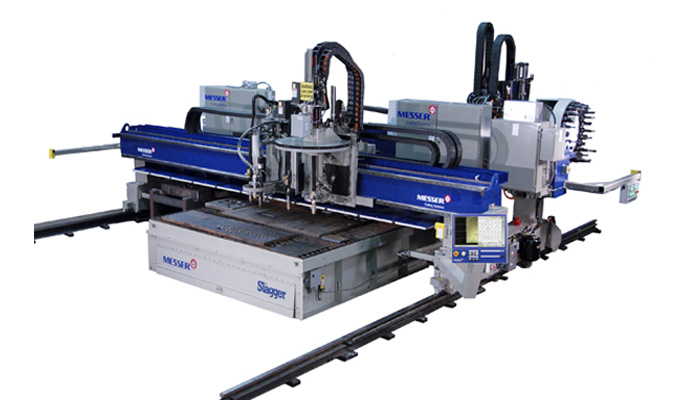 ---
Heavy-Duty Dual Beam Cutting Machine
Heavy-Duty Dual Beam Cutting Machine
The TMC4500 dual-beam box gantry cutting machine is built to perform in rigorous production environments. With drilling up to 4″ this machine can be with multiple tool options, including bevelers cutting in both plasma and oxyfuel and markers. Learn more.