Titan III Plasma Cutter Specifications
With harsh cutting and high heat environments in mind, the Titan III was designed for demanding environments. Utilizing an innovative end truck design, which houses and isolates the electronics away from the plate processing area, the Titan III can easily handle both heavy plate and around-the-clock operation.
The machine features linear ways in the Y-axis, pitch-line engaged rack and pinions, and our high productivity SL lifters for smooth, repeatable cutting or marking. Our industry-leading Global ControlPlus lets you cut faster with our easy-to-use touch screen interface.
Why Does Messer Cutting System Manufacture the Titan III Plasma Cutters?
Through close partnership with our customers like you, the Titan III is the machine that you helped design. It is a mid-sized and industrial-grade work horse supporting the hard-working men and women that power American industry. With over 750 Titans installed in the United States, they can be found in nearly every metal industry, and their reliability has made them popular with a multitude of OEMs and steel service centers.
The Titan III is available with many standard tools. Choose from vertical plasma, oxyfuel, or bevel cutting, as well as drilling and your choice of a variety of permanent and semi-permanent marking options. No matter the metal type or thickness, we have a plate metal cutting solution to move your business forward.
Titan III Machine Specifications
Cutting widths: 6′ to 16′ (1.82 m to 4.876 m).
Cutting lengths: up to 150′ (45.72 m).
Type of Control: Messer Global ControlPlus CNC Control
Contouring Speeds: 400 IPM
Positioning Speeds: Up to 1,700 IPM
Machine Motion Accuracy: +/- .010″ (.254 mm)
Machine Motion Repeatability: +/- .010″ (.254 mm)
Material Cutting Capability: 26 gauge to 12″ plate thickness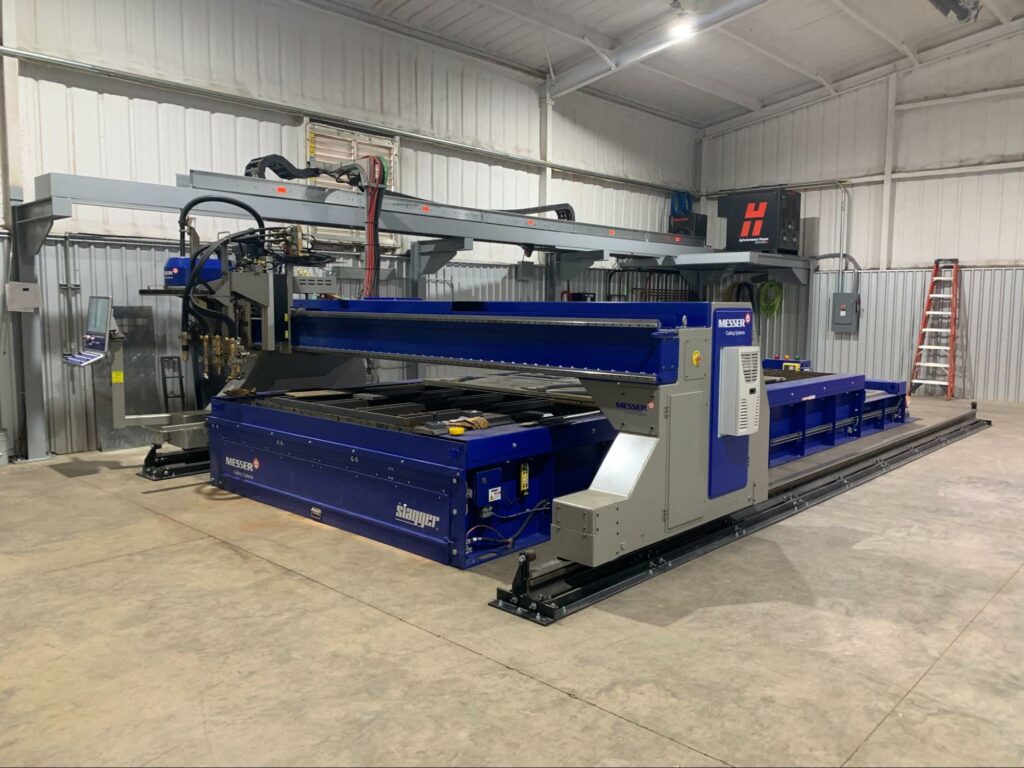 Contact
Messer Cutting Systems, Inc.
---
W141 N9427 Fountain Blvd.
Menomonee Falls, WI 53051
USA
Downloads
Titan III Components
Messer offers a variety of process tools. All Messer machines are completely customized. The benefits of a customized cutting machine fit for your company's needs can make you the leader of productivity in your industry. When you need a machine that outperforms all others and provides you with the capability of bevel cutting, drilling, tapping, and marking, all on a variety of materials from thin plate to thick steel with an excellent cut part quality, then Messer Cutting Systems is your machine of choice.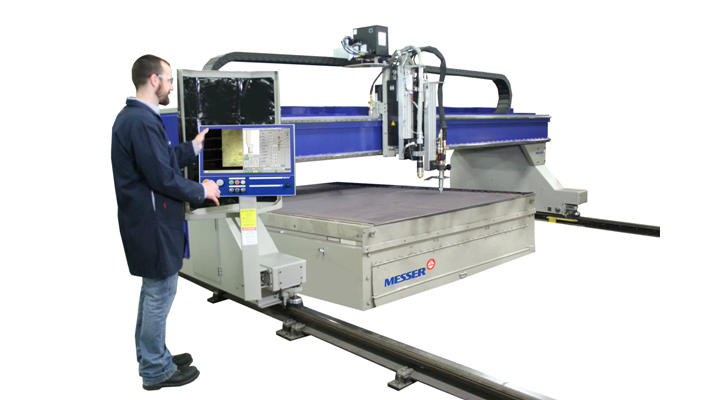 Optional Machine Features
Because every Messer machine is customized to fit our customers' needs, the Titan III can be equipped with a range of options to promote optimal performance and efficiency.
Up to 12 torch stations (maximum two plasma stations).
Right or left hand mounted control console with tilt and swivel for operator comfort.
Automatic torch spacing (with programmable torch selection).
Programming and nesting software solutions for digitalization.
Dust collection system.
Sentry Service preventative maintenance program.
Process Tool Options
The Titan III plasma cutter can be modified to accommodate different applications and functions depending on your needs. Cutting options include:
Precision Plasma (up to 800 amps).
Advanced Oxyfuel technology (with an Omniflow automated gas regulation system).
High-speed automated Oxyfuel cutting Turbo Flame™ or ALFA™ Oxyfuel torches.
Electric drilling up to ½" diameter.
Various plate markers, including: Plasma, Ink-jet, Air Scribe, Zinc Powder, and Telesis® Pinstamp.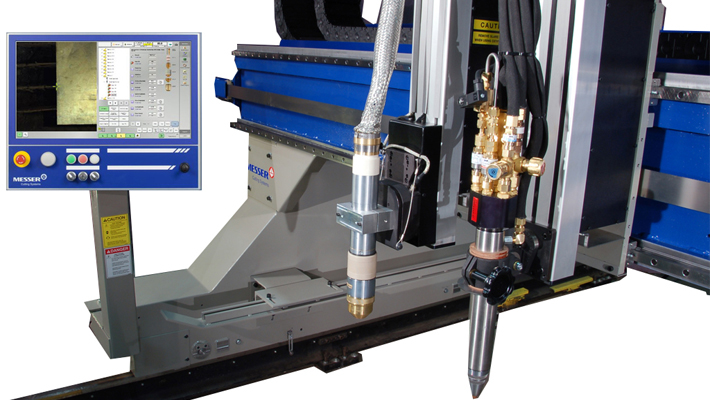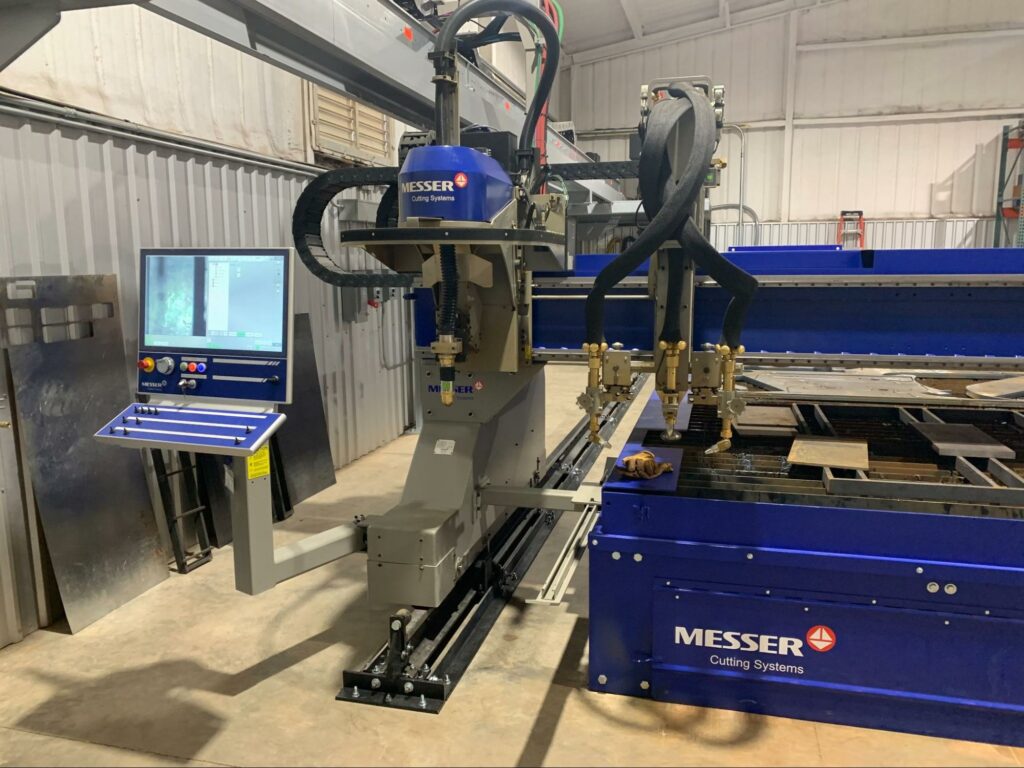 Beveling Options
Precision and accuracy are critical elements of beveling. We can equip your Titan series plasma machine with the following bevel options for weld prep surfaces beveling (with options for straight line and contour, oxyfuel and plasma, single torch and multi-torch beveling):
Video: Titan III Cutting Machine
Get Powerful Productivity With Messer's Titan III
The Titan III combines Y-Axis linear ways with SureTrack pitch line rack and pinion drives to provide the smoothest cut edge and precise holes. Wider-end trucks with maximum guide roller spread further stabilizes the X-Axis motion for the utmost cut edge performance.